CoinGate is expanding its services and partners with Binance, offering users to pay for more than 1000 gift cards via Binance Pay, or buy CoinGate Gift Cards straight from Binance Mobile App.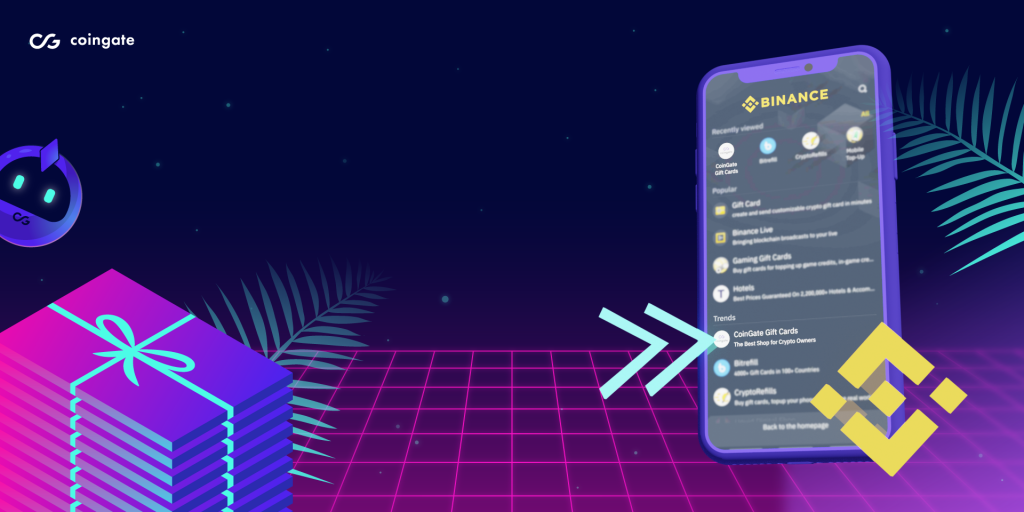 Besides gift card store, CoinGate unites 500+ merchants who now accept crypto payments for their services. Partnering up with Binance allows CoinGate to scale crypto adoption on a B2C level. Integration of Binance Pay to their e-commerce platform and gift card store integration to Binance app, the biggest crypto exchange in the world lets in-store users acquire gift cards from top well-known brands and pay for them with Crypto. That's the shortest way to celebrate crypto technologies – by living your daily life on crypto.
As of this moment, CoinGate users have access to the Binance Pay option! Buying gift cards at CoinGate was always an easy and fast process with more than 15 different cryptocurrencies accepted in our store. Binance pay will add a new perspective to our crypto community. It's an easy-to-use system that allows you to use crypto from your Binance account or app. Just a few clicks and your gift card is on the way to your email!
Binance touch to CoinGate users
We believe that partnering up with crypto-giant Binance brings convenience to our users. Binance Pay is a contactless, borderless and secure cryptocurrency payment technology that will:
– Allow to pay for chosen gift cards in more than 40 different altcoins and stablecoins;
– Reduce transaction and commission fees;
– Bring immediate confirmation of shoppers' transactions. Meaning faster transaction speed;
– Binance app users will be able to check out on the CoinGate gift card store.
The even better news is that CoinGate Gift Cards will be accessible through the Binance Gift Card marketplace! All you need to do is open the Binance app, scroll up to access the Gift Cards marketplace and find the gift card you need!
How to pay with Binance Pay?
From now on you can choose Binance Pay as a new payment method at checkout. To pay through Binance Pay, you need to take a couple of steps.
Make sure that you have a registered Binance account and a Binance app. If not, first of all,

download the app

and

verify your account

.

Log in to your Binance account on the app and use this

step-by-step guide

to top up your Binance pay wallet.

Visit our

Gift Card store

. Choose a country you are from and start searching for the gift cards you want to buy.

When you've

chosen the gift card you aim to buy

, choose the cryptocurrency you're planning to pay with and choose the value of your gift card. Then add the gift card to your basket.

If your shopping spree is done, press on the basket icon on the top of the page to go to the checkout.

On the checkout page you'll find an option to "select payment method". Here choose the [pay with Binance] option, accept terms and conditions and voilà! Your purchase is almost done.

After choosing the [Pay with Binance] option, you'll get a QR code, which you'll need to scan with your Binance app. If you're not sure how to do it, check the Binance tutorial named "

How to make payments with Binance Pay

".

After scanning the QR code, check and confirm the payment details, chosen currency and the amount you're spending, then tap [continue] to proceed with your payment. Important thing to note is that

when you click on login and pay there, you can find an option to choose which currency you want to pay in.



Remember, the BUSD is just an equivalent of the current gift card price in Binances' native currency (Binance USD). You can pay the BUSD amount in any currency that you currently have in your binance wallet.

If payment details and payment cryptocurrency are right, press [confirm], enter your PIN and enjoy the gift cards you bought!
Why now?
While the crypto market is booming and reaching its all-time highs, there are still some walls to break for cryptocurrency adaptations for everyday purchases. Thus, the Binance integration makes CoinGate Gift Cards even more accessible for crypto owners. If our customer wants to order some food with home delivery and pay in BTC or use Solana altcoins to buy Call of Duty: Vanguard game for their Xbox – we're making it possible.
CoinGate offers more than 1,000 gift cards so you could cover all your needs with crypto. From gift card classics like Amazon or eBay to restaurants, travels, gaming or sports equipment and even more.
About Binance
Binance Pay is a contactless, borderless and secure cryptocurrency payment feature on the Binance App. Launched at the beginning of 2021, Binance Pay features the Pay and merchant functions allowing users to pay, send and receive crypto payments around the world without incurring any fees.
Binance pay is created by Binance, the leading cryptocurrency exchange and infrastructure provider.
More articles that might be relevant to you: