Black Friday is almost here and we like to celebrate early. Therefore, from this day forward, you can get back the Doge you spent! Moreover, we're also adding BTCV to the cashback list!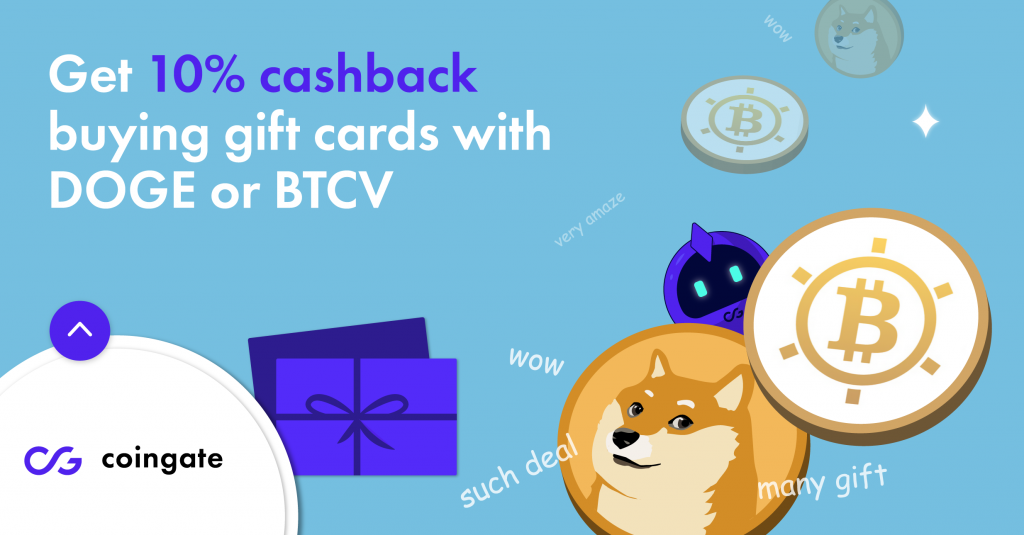 Till November 30th you will get a 10% cashback for your gift card purchases made with Dogecoin or Bitcoin Vault (BTCV) . All you have to do is buy gift cards at our Gift Card store, use CoinGate checkout and choose Doge or Bitcoin Vault as your paying currency! 
In order to get a cashback you just need to follow these steps:
#1: Select cryptocurrency with cashback promo tag from the webpage
There may be different currencies that are eligible for cashback. The promotional tag, like '10% Cashback' will be visible once you enter the currency selection screen. It will look something like this: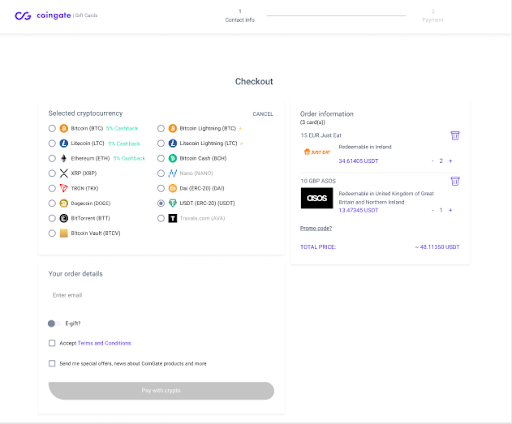 #2: Pay for your order
When you are paying for the order it is important to make sure you are selecting the 'Pay with cryptocurrency (Coingate)' payment method in the checkout. Unfortunately, other payment methods like 'Binance Pay' do not support Cashback. This is the payment selection screen: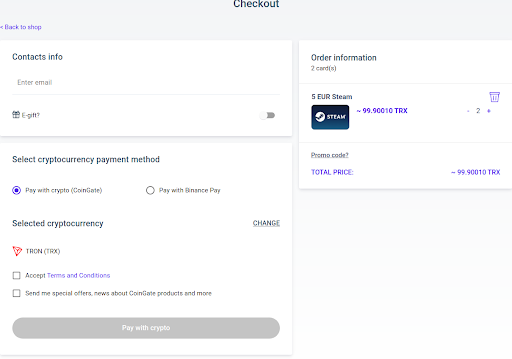 Proceed in the checkout with payment until 'Paid and Confirmed' screen appears. On that screen, you will see the message, that you are eligible for a cashback. If you leave the screen don't worry, you will find an email in your mailbox with details on how to withdraw your reward. The 'Paid and Confirmed' screens should look like these: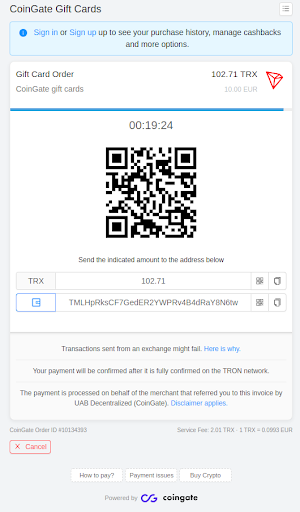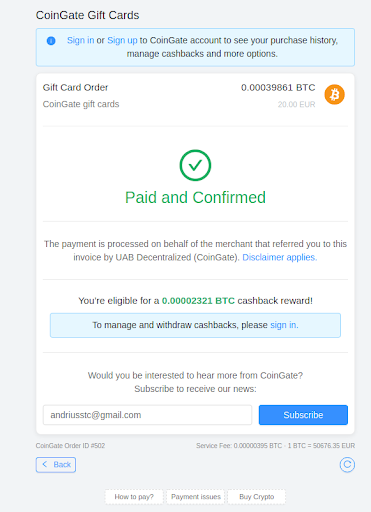 #3: Register or Login to CoinGate account
Now you are ready to withdraw your reward. In order to do it, you need to have a CoinGate account. 
A. If you have a CoinGate account, you are one step from getting your reward. Sign in immediately from the invoice with the 'Sign in button'. Use your preferred sign-in methods like CoinGate, Google, or Facebook for authentication. Here is how the screen should look like: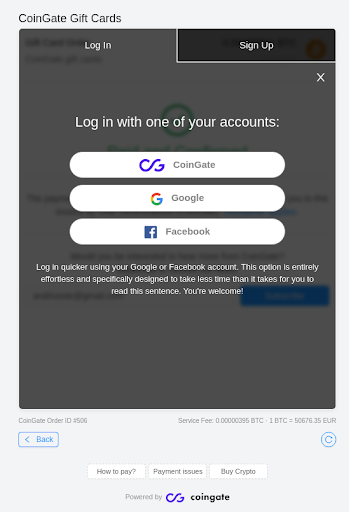 B. If you don't have CoinGate account, you need to create one. Press this link and complete the registration: Start CoinGate registration
During the process you might be asked to verify your account, however, it is not obligatory for cashback users, so you might skip this step to save your time. The registration process looks something like this: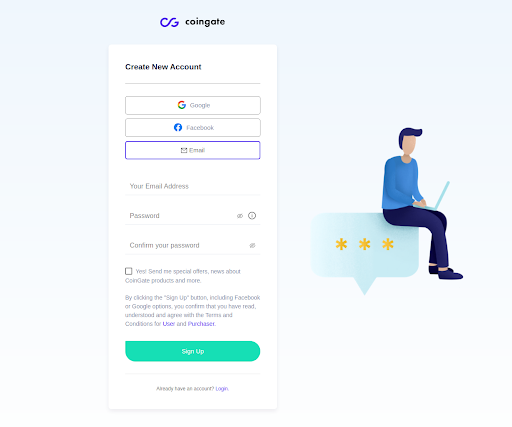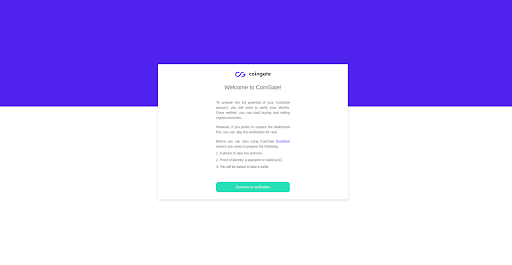 #4: Fill up cashback from
Once you have created your CoinGate account you can get back to your invoice using an email link, which previously informed you about the cashback. Log in if you haven't done so and fill up the 'Cashback reward' form with your wallet address. Make sure you add the correct blockchain wallet address matching your selected currency, e.g. if it is an ERC-20 token, add Ethereum blockchain wallet address.
Please note: Transactions sent from an exchange might fail. Here is why.

Email and further steps should look like this: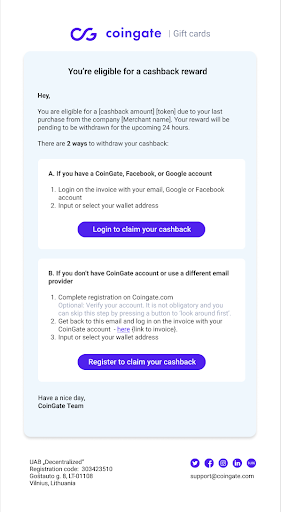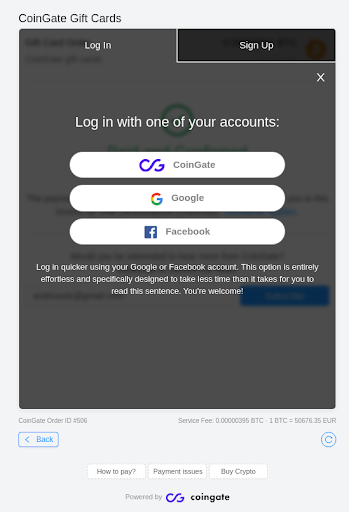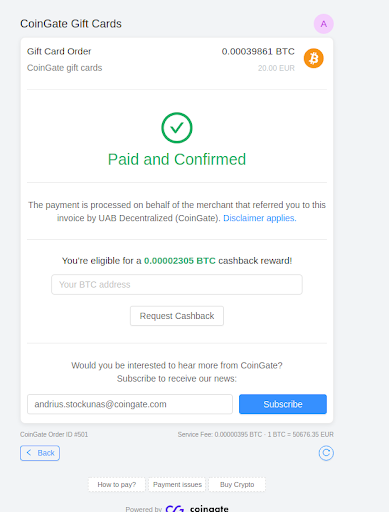 And that's it! Expect your cashback to appear in your wallet within 48 hours. Keep in mind that all unclaimed cashback requests will expire after the cashback campaign is over and will no longer be valid. Also, note that cashbacks, discounts and promo codes do not accumulate. Meaning that if you'll decide to use the promo code at the end of your purchase, you won't be able to get a cashback and vice versa. You need to decide which option you'd like to use more!
With that said, let's start the shopping spree! Press here to go shopping at CoinGates' Gift Card Store and make sure to notice our merchants Black Friday offer!
If you have any questions or issues, feel free to scout our Knowledge Base for answers, or just reach out to our support team at support@coingate.com. 
Also, follow us on Twitter where we share all our news and updates.