Black Friday Sale is here! Get special deals from our merchants by using promo code CRYPTONOVEMBER at their checkout and get discounts up to 83% off from hosting plans, VPN services, from Italian groceries to Japanese products, or even clothes from Nike.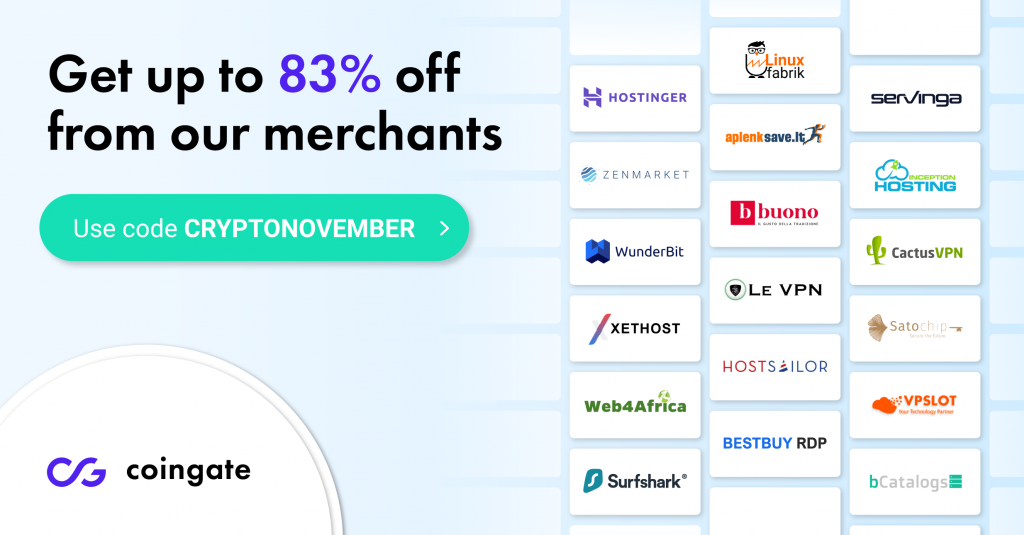 The season of giving starts now. One code, 18 merchants, and wide opportunities to get the best Black Friday shopping deals. From November 15th till till November 30th use promo code CRYPTONOVEMBER to get various discounts for a wide list of services.
Which merchants participate in the CRYPTONOVEMBER sale?
Hostinger
Hostailor
Surfshark
VpsLot Hosting Services
Le VPN
Web4Africa
Aplenk save
Best Buy RDP
Bbuono.it
Inception Hosting
Cactus VPN
SatoChip
Servinga
Biz-catalogs
WunderBit
LinuxFabrik GmbH
XetHost
ZenMarket
Go to our Merchant directory and find a special promo code bar next to their name or read below to get more details.
Hostinger
Hostinger is a web hosting provider. They believe in personal online expression and constant growth and work hard to provide top-notch web hosting services and technology, allowing people around the globe to unlock the power of the internet and acquire the freedom to learn, create, and grow. Hostinger uses no-limits PHP, MySQL, hPanel tools, allowing complete creative control over your personal endeavors.
A promo code CRYPTONOVEMBER is valid for all new hosting plans (shared, VPS, WordPress, Cloud) for all available periods (from 1 to 48 months). The discount rate is 10%, code is active until 2021-12-03, applicable in all localities.
Hostailor
Hostailor is an Indian Company and provider of shared, reselled, VPS & dedicated web hosting. They offer many services: Migration, Domain, Hosting, Deals, Coupons, Offers, Linux Hosting, Windows Hosting, SSD Hosting, Cloud Hosting, Domain Reseller, Domain Search, Transfer Domain, VPS Server, Dedicated Server, SSL, Email Hosting, Instant VPS, Shared Hosting, G Suite and even more.
With a promo code CRYPTONOVEMBER get a 60% off for 1st year SSD Hosting services and all, except Windows, VPS plans. Important note: you can ask for 20% off after the 1st year and it will be a recurring discount for a lifetime.
Surfshark
Founded in 2018 as a VPN, today the Surfshark encompasses a toolkit of online privacy and security solutions, developed to protect people's digital lives: a feature-heavy, easy-to-use VPN, a data leak detection system alert, and a private search tool.
With a promo code CRYPTONOVEMBER you will get an 83% discount for +3 free months of Surfshark services. The promo code is automatically assigned to the link suggested in the merchant directory.
VpsLot Hosting Services
VpsLot.com is a company specializing in Domain names, web hosting services, VPS, and dedicated servers. VpsLot offers high-performance Shared Web hosting and Semi-managed Virtual Private Servers (VPS) / Dedicated servers. Their multiple packages suits customers customized needs while remaining within the settled budget.
CRYPTONOVEMBER promo code will allow a recurring discount of 50% on all qualifying products for 3 billing periods. The discount is available for the following products:
Le VPN
Le VPN was founded in Paris, France in November 2010 by a team of internet freedom and cybersecurity enthusiasts who aimed to bring a solution for personal security and privacy available for everyone. Do you need to secure your device and its data from cyber threats or maybe, you want to stay private and safe from outside monitoring? Le VPN will have your back.
Promo code CRYPTONOVEMBER will give you a 30% discount on 1-year plans of Le VPN service for their new clients. So if you or your business is thinking about cyber security and VPN services – now is your time.
Web4Africa
Web4Africa is an ICANN Accredited Domain Name Registrar and Web Hosting company, offering domain and hosting services to clients worldwide. They offer about 450 web applications, including WordPress, Joomla, Drupal, and more. Their regular hosting plans come with a cPanel control panel for easy management.
With a promo code CRYPTONOVEMBER you'll get a 25% discount for Web Hosting, WordPress Hosting, and VPS Hosting.
Aplenk save
Aplenksave.lt is a Lithuanian e-commerce business, offering a wide variety of goods for sports. It might be new running shoes, balanced food supplements, trendy outfits for an active lifestyle, or even a swimming hat. Aplenksave.lt means race yourself and if you like challenges, aplenksave. lt will surely help you to conquer them.
CRYPTONOVEMBER code will get you 20% off for NIKE, Compressport, Craft, Maurten, Petzl products. Discount is not valid for already discounted items.
Best Buy RDP
Best Buy RDP offers cheap Remote Desktop Protocols (RDPs). RDP is a Microsoft protocol designed to facilitate application data transfer security and encryption between client users, devices, and a virtual network server. A person can connect to a Windows-like graphical interface and perform work the same as he does on his Windows PC but with better features and platform.
A promo code CRYPTONOVEMBER will get you a 10% discount for Best Buy RDP services.
Bbuono.it
Bbuono serves the taste of Italy. They support small local companies in the Brescia valleys and Lake Garda that produce things in the traditional Italian way. Bbuono is always looking for the top-notch food and wine of the territory and finds them in the most hidden villages of Brescia to bring to your table. Fresh or mature Italian cheese, the goodness of meats, fresh pasta, Italian wines, liqueurs, and more.
With a promo code CRYPTONOVEMBER you will get a 15% discount on all products: fresh or mature Italian cheese, the goodness of meats, fresh pasta, Italian wines, liqueurs, and more. So go ahead and taste the uniqueness of Italy.
Inception Hosting
Founded in 2010, Inception Hosting provides reliable and budget-friendly hosting services. They guarantee 24/7/365 support options, Shared hosting, virtual servers, dedicated servers, domains, and more.
CRYPTONOVEMBER promo code will give you a 35% discount for any of Amsterdam, Phoenix, or Frankfurt Virtual Server products on any payment term i.e. monthly, quarterly, 6 months, or even 1 year.
Cactus VPN
Cactus VPN allows you to surf anonymously online, bypass regional restrictions and unblock media websites. They can hide your IP address, encrypt your internet connection, and secure connections to public hotspots. Cactus VPN services offer unrestricted access to geo-blocked websites with no speed loss.
With a promo code CRYPTONOVEMBER you will get a 30% discount for any of their plans!
SatoChip
Based in Belgium, the SatoChip team provides blockchain services and consulting. They aim to unlock the potential of blockchains for various businesses and offer the Satochip hardware wallet. It is an easy-to-use, straightforward and affordable solution to safely store your favorite crypto assets. SatoChip stands for Secure Anonymous Trustless and Open Chip.
CRYPTONOVEMBER code will grant a -10% discount on every product (except for our Designer edition cards) and free shipping worldwide. The important note is that each customer can use "CRYPTONOVEMBER' code 5 times.
Servinga
Based in Germany, Servinga is an IT and cloud service provider that specializes in cloud computing, hosting, virtualization, and data center solutions. They follow high EU speed, reliability, and legal protection standards, and go above and beyond when it comes to data protection.
With a promo code CRYPTONOVEMBER you'll get a 50% lifetime discount. That's a half-price off for each and every one of their products, so go ahead and don't be shy!
Biz-catalogs
Biz-catalogs is a business contacts e-shop. They provide data customizing on-demand with databases available in XLSX, CSV, and SQL formats. Their business catalogs are collected from publicly available sources: internet websites, search systems, catalogs of the companies, and others. Biz-catalogs collect data only of active companies – the companies that publish their data on the internet and can help you with much-needed contacts.
CRYPTONOVEMBER promo code gives you a 40% discount on all of their products on the biz-catalogs website.
WunderBit
Wunderbit Trading is a platform that allows you to start trading and investing in cryptocurrency. They offer to copy trade the best crypto traders with a transparent track record, trade cryptos yourself using the advanced trading terminal, or create a fully automated trading bot using TradingView.
With a promo code CRYPTONOVEMBER you'll get a 50% off for any subscription plan. So start trading!
LinuxFabrik GmbH
LinuxFabrik GmbH is a Swiss company founded in 2016. They help companies and organizations to implement and maintain Linux and open source-based projects. LinuxFabrik GmbH experience is based on many years of activity in the automotive industry, telecommunications, and medical IT and their goal is to pass their passion for Open Source and Linux and thus build efficient and secure infrastructures and applications without limits.
With a promo code CRYPTONOVEMBER they offer a 20% discount on an annual subscription for Nextcloud.
XetHost
XetHost is an IT company that offers Virtual Servers, Dedicated Servers, Webhosting, and SMTP service so your IT game could reach the clouds.
CRYPTONOVEMBER promo code will give you a 50% off for "Linux Kai" and "Linux Nya" packages. Details about the packages can be found on their VPS hosting page.
ZenMarket
Zenmarket will help you to find and buy anything you need from Japan. It's a Japanese proxy shopping service that connects all Japanese online marketplaces and auctions. They provide customer support in 10 different languages, including English, Japanese, Spanish, French, Chinese, Russian, Ukrainian, Vietnamese, and Malay so you could get the best from Japan straight to your home.
With a promo code CRYPTONOVEMBER you'll get a 10% off international shipping fee discount. Press here to activate the code now.
Follow us for more discounts
November is a season of giving! Therefore, visit our Merchant directory and get the best Black Friday deals possible. Follow us on Twitter, Facebook and Instagram, register on our page for the newsletter, and be first to get news about our upcoming deals and discounts.