Every cryptocurrency or token out there has a purpose, some predetermined use case that makes it useful in the hands of its holder.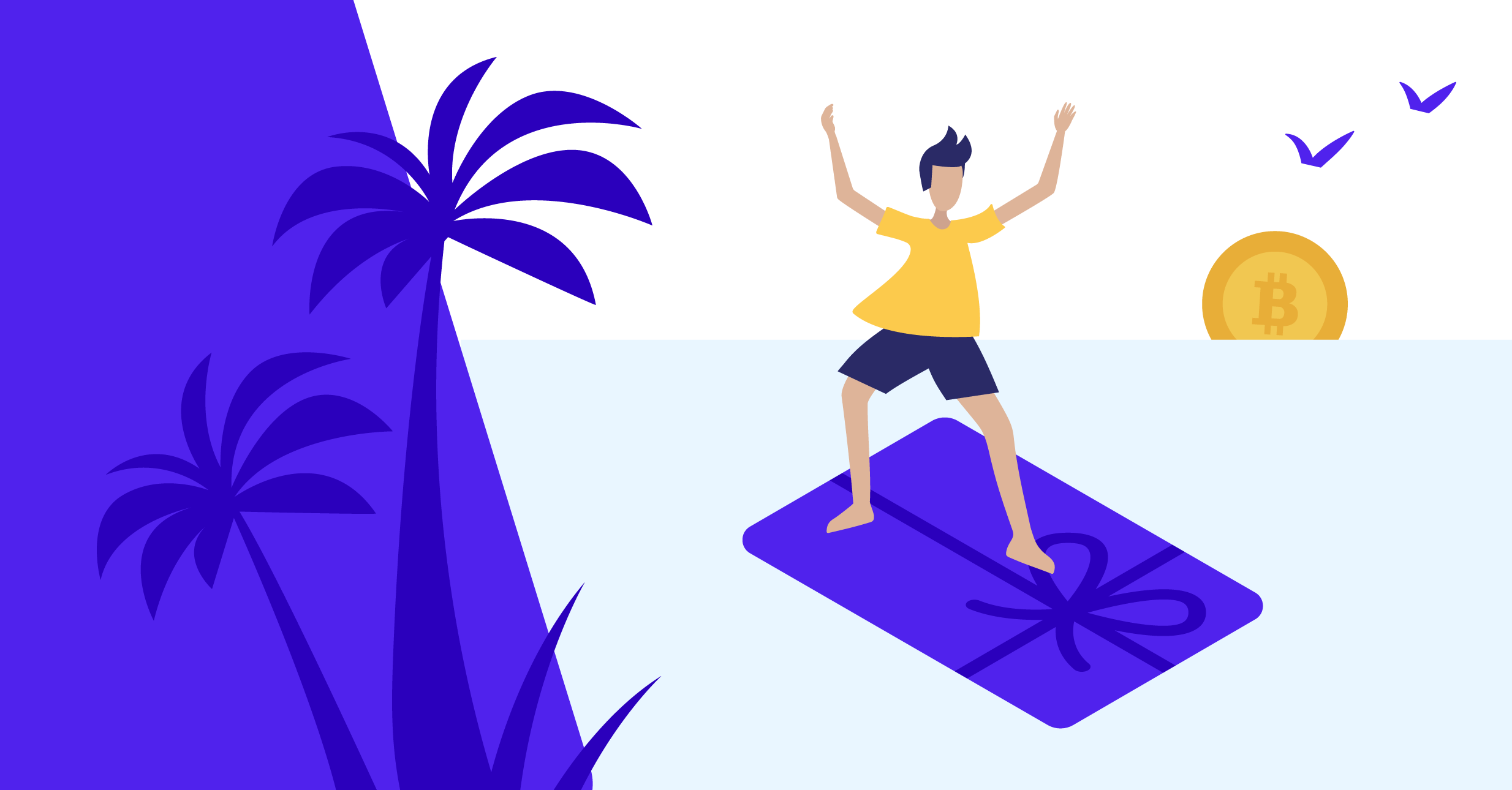 For example, the king of all virtual assets Bitcoin is now getting appreciation as a hedge against fiat currency inflation and acts as an alternative store of value to gold. Ether, the second most successful crypto by market cap, is used to fuel smart contracts and dapps on the Ethereum network. 
Usefulness is what seems to determine how valuable and demanded cryptocurrency can or should be. But for most regular people, the value derives from the ability to spend it on everyday necessities.
At this moment, there are more than 8,800 cryptocurrencies created and used for various reasons. Most of them indeed cannot be spent on anything other than other cryptos on an exchange.  
Good news is, in 2021, that fact no longer applies to coins sitting at the top of the crypto market food chain. 
If you know how (to be honest, it is almost effortless), you can buy anything using crypto, do it fast and without much of a hassle, whether you want to spend Bitcoin, Litecoin, Ether, Nano, TRON and few other popular currencies.
And by saying anything, it means anything at all.
So how can I buy things with Bitcoin or other crypto assets?
There are a few ways to go about spending Bitcoin and other coins, depending on a thing (or things) that you wish to buy.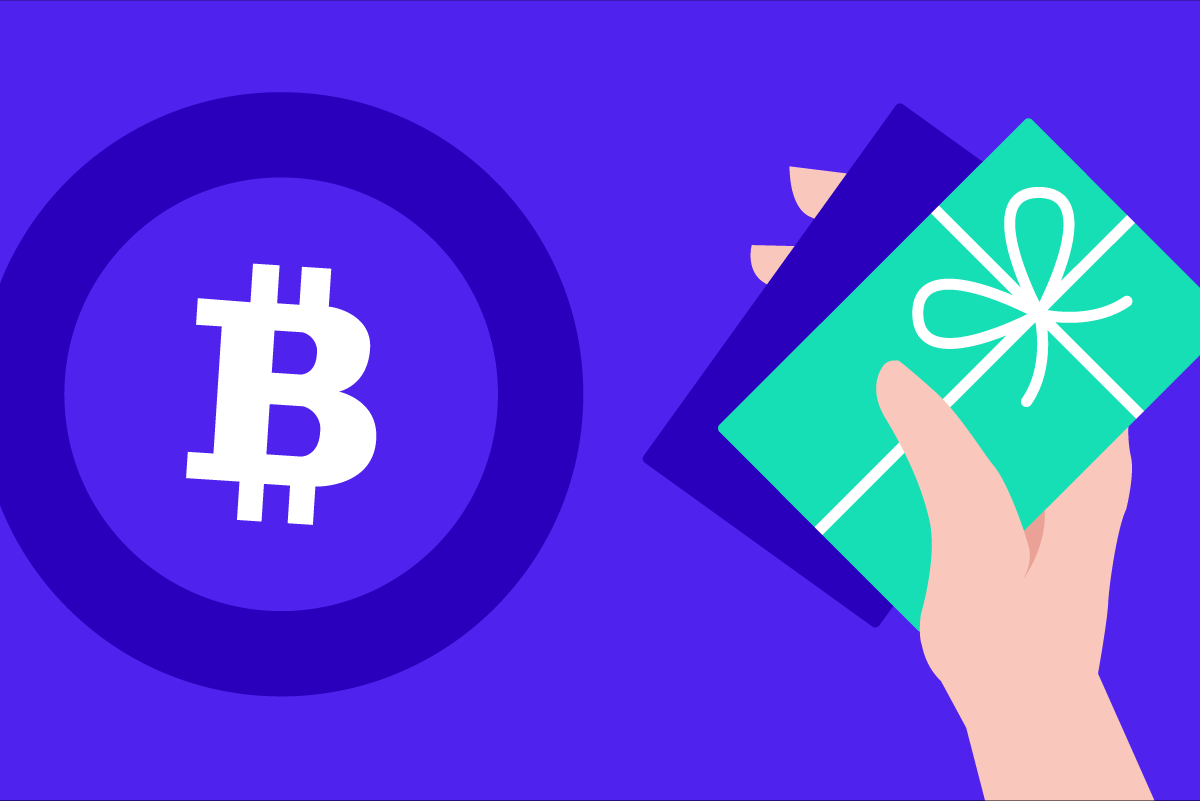 The first option is to rely on online shops that have a crypto payment option set up. 
Right now, there are thousands of merchants around the world that take various crypto assets for payments. Besides, they make themselves easy to find by listing their services on websites dedicated to a single purpose of listing and showcasing crypto-friendly merchants. 
The process of paying with crypto at such stores is ultimately the same as you would spend Euros or Dollars with your credit card online: you select merchandise, go to checkout, make a payment and there's that. 
However, most businesses that accept crypto payments come from niche industries like Adult, VPN or hosting services, and there's a good chance that you'd like to buy something more desirable or necessary. 
Items like smartphones, computers, video games and everyday consumer goods naturally come to mind first. 
But, even though Bitcoin is already 12 years old, it's still not that easy to find reliable first-hand sellers that would offer such an inventory for it. And, if you attempt to buy something with any other cryptocurrency or token, the task becomes borderline impossible.
Surely, there has to be something that we can do about that in 2021? 
And you would be right to ask that question. As mentioned before, there is another way to spend bitcoin and a bunch of other virtual assets for things that are not commonly sold for them, and do so without leaving your comfort zone.
Use gift cards to spend Bitcoin on anything & everything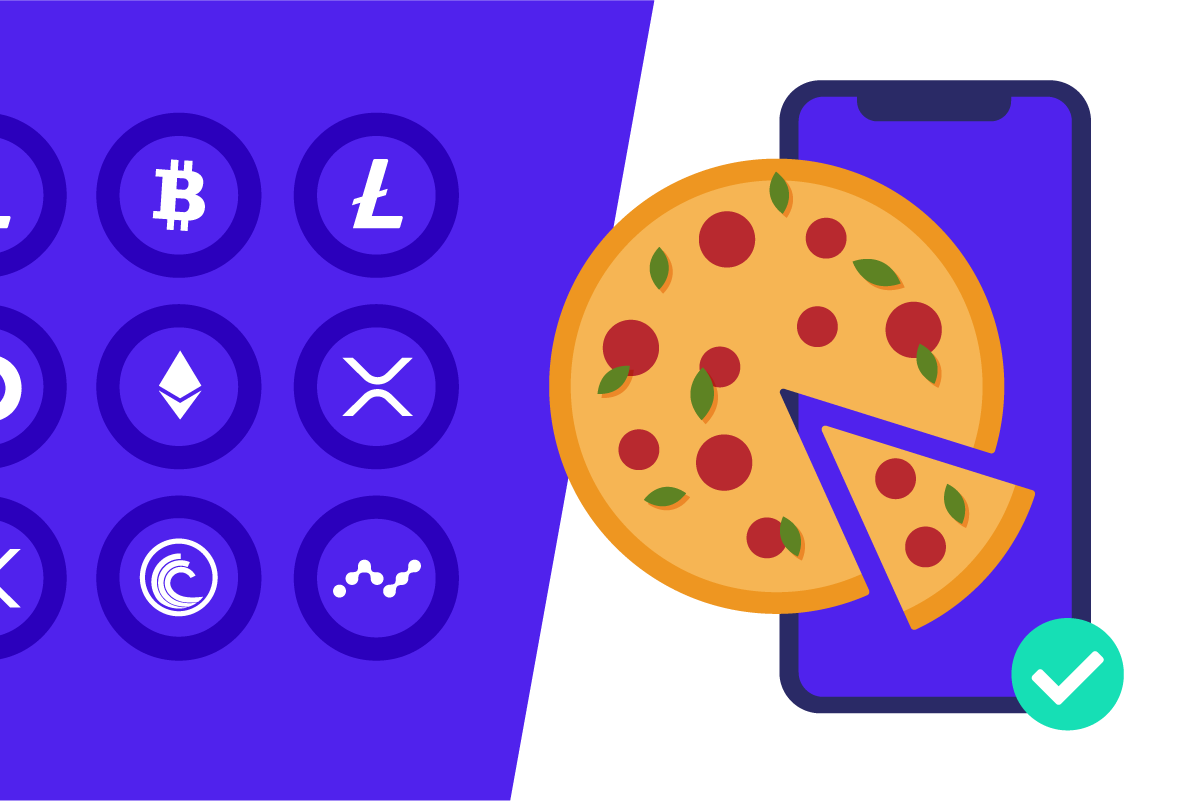 While you cannot spend Bitcoin or other crypto assets directly on marketplaces like Amazon or eBay, it is possible to buy Amazon or other gift cards with crypto instead. 
And these two are just examples – today the range of gift cards accessible for cryptocurrencies are quite vast and available in most regions of the world, including Europe, the USA, Canada and several others.  
This option is made possible by electronic gift card sellers such as CoinGate. 
As of now, the service offers 600+ gift cards and vouchers including giants Amazon, eBay, Google Play and Sony Playstation, essentially giving your cryptocurrencies that same purchasing power that your regular money in the pocket has.
Getting gift cards for cryptocurrencies is getting increasingly popular amongst crypto holders not only as a way to buy things for yourself. 
It is also proved useful when you need a quick gift for any occasion, or even transfer something of value abroad to your family instead of using costly money transfer services.
The numbers do not lie, and they agree. Since CoinGate opened its gift card retail service in July of 2020, the number of voucher sales have been increasing every month by at least 30%. 
But the sales truly skyrocketed right at the start of the year 2021 – compared to December, CoinGate sold 50% more gift cards in January, reaching a monthly average in just 15 days. 
It just shows how great the demand is for such a service and how useful people find it in their daily lives, which is one of the reasons why the company is expanding its service to the massive user base of India as of this moment. 
But is the service as easy to use as it sounds? 
Buying a gift card with Bitcoin (email delivery)
Short answer: yes. 
First off, select any gift card that you want from CoinGate gift cards store. There's a search option to look for a specific card, or you can sort the inventory by voucher's popularity, date added and available countries. Otherwise, try browsing the store by categories and see what it has to offer.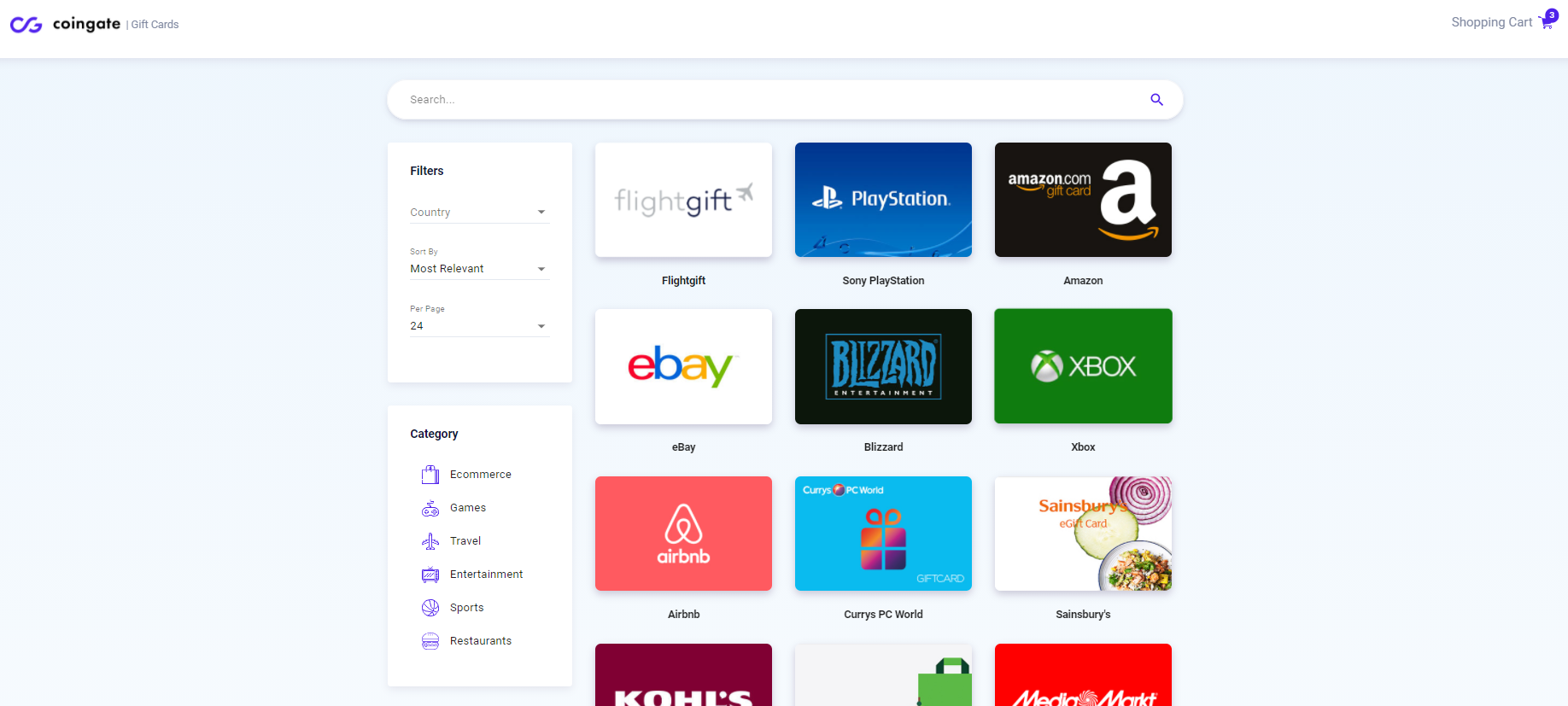 When you find something that you like, simply select the gift card, enter the amount and add it to the cart.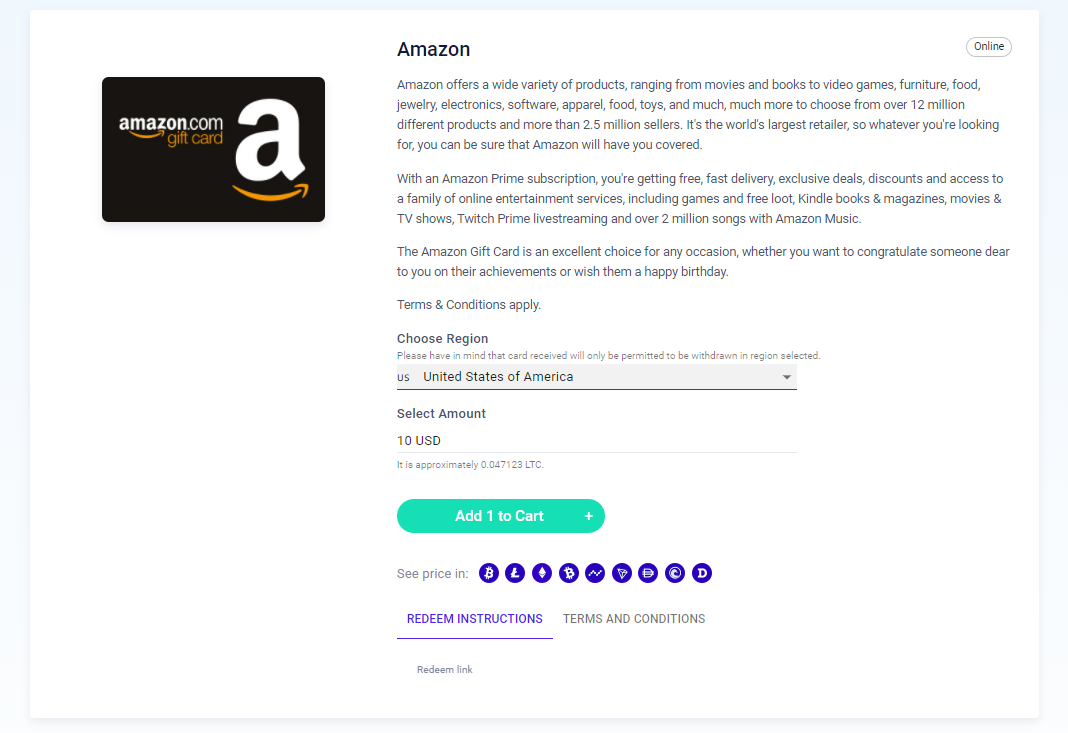 Once on a checkout window, provide an email address. That's where the gift card will be delivered. 
There's also an option to send a gift card as a present to someone else's email if that's what you want to do.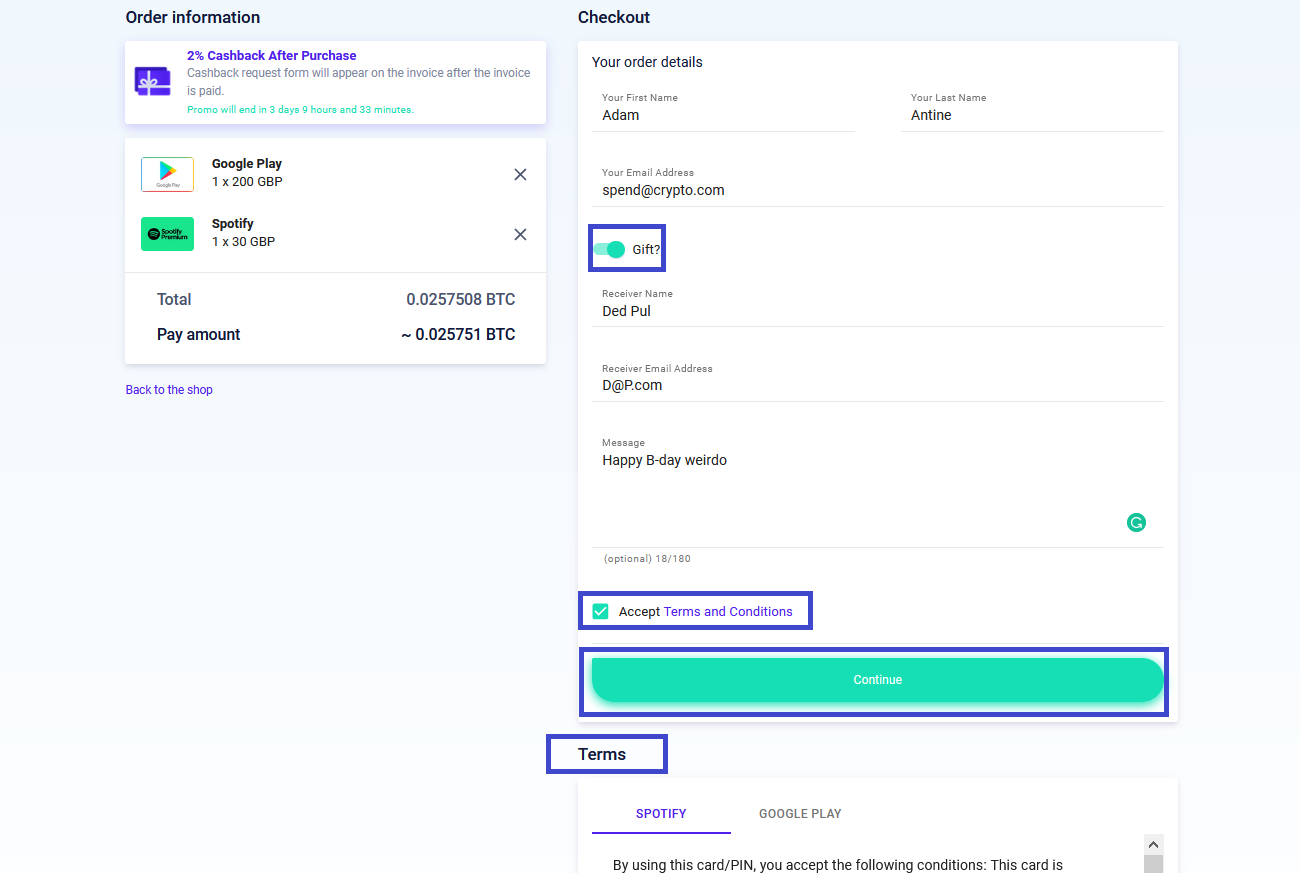 Right after you enter the email address, you will see several payment options to choose from. The service allows paying for vouchers with Bitcoin (BTC), Litecoin (LTC), Ethereum (ETH), XRP, Nano, Dai, Travala.com Token (AVA), Bitcoin Cash (BCH), TRON or BitTorrent Token (BTT).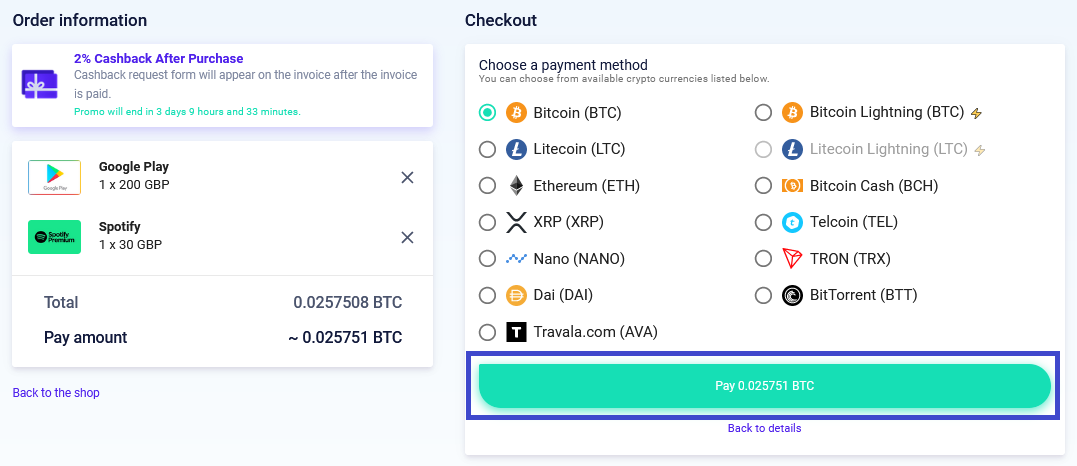 The service also supports payments via Lightning Network for Bitcoin and Litecoin so you can save some money off of network fees as well.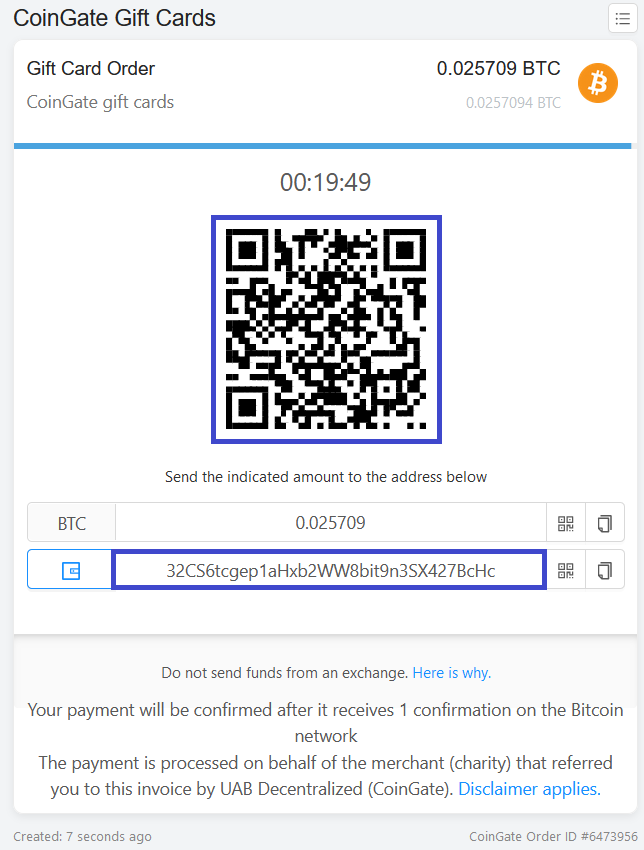 Once you click that "Pay with crypto" button, all there will be left to do is make a payment. Either scan the QR code with your mobile wallet or copy the address and send the exact amount of cryptocurrency to it that way. 
The best part is, gift cards are sent to you by email in minutes after the payment is made. 
This is it! It's that easy to get a gift card that you want, and it doesn't take more than 10 minutes to go through the whole process. Just make sure you always select the correct region before making a purchase.
If you're not sure how to redeem gift cards for the service, no need to worry – instructions on how to do it can be found on your gift card's description page.
Hopefully, you will use this knowledge to your advantage and treat yourself or someone close to you with something special while you're at it.
Good luck!
Here are more articles from CoinGate that might be relevant to you: