Get ready! Starting on Nov. 27, we're giving out prizes with each purchase made from CoinGate merchants, as well as our gift card shop. See the prize pool below!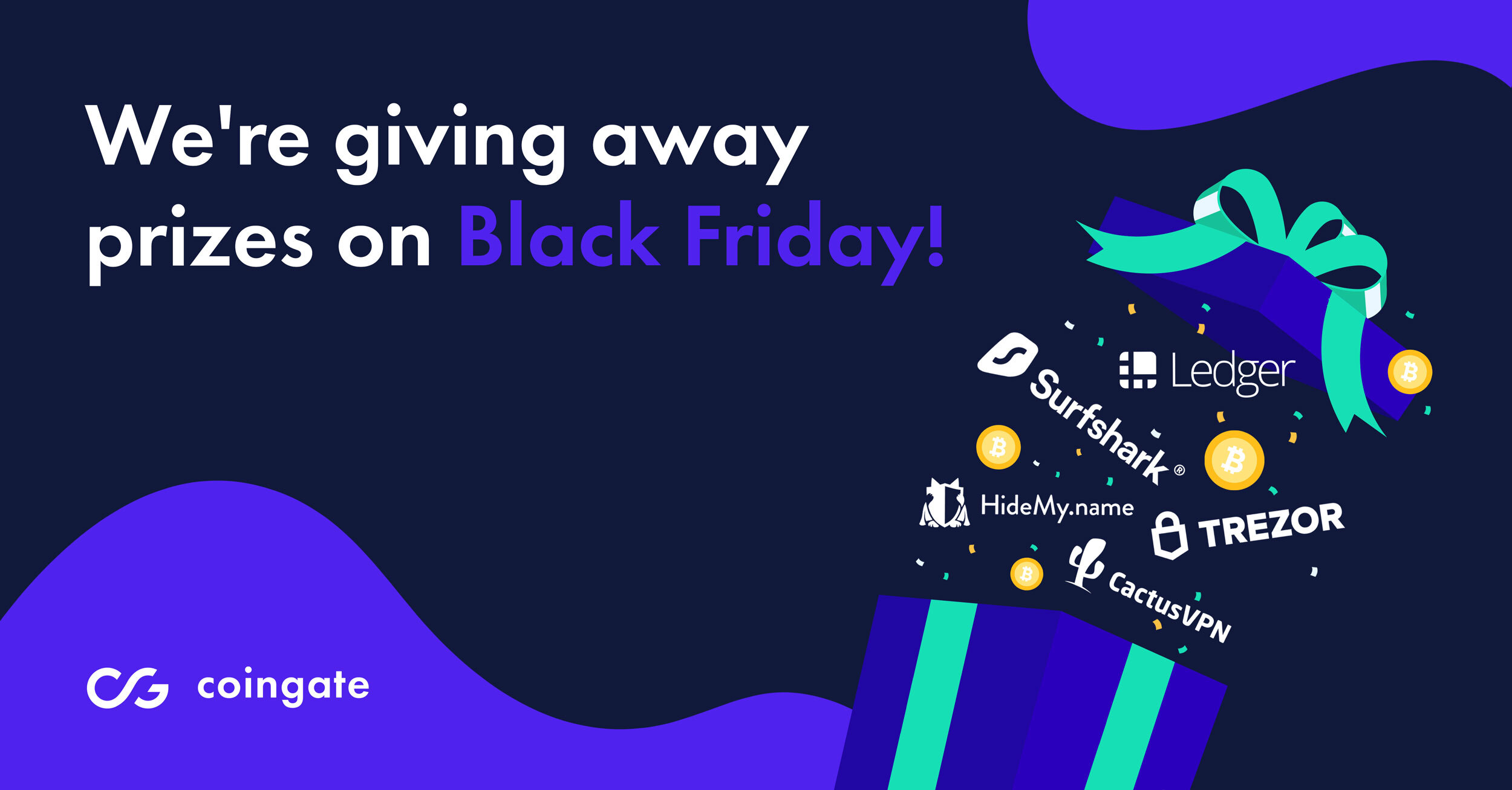 Rules are simple – once we announce the start on our Twitter account, spend €10 worth or more of any cryptocurrency (+50 options) at any merchant that accepts it through CoinGate, or at CoinGate gift card shop, and enter your email address. 
Right after, we will present you with a prize wheel. Just spin it and claim your gift instantly! That can be VPN subscriptions from our merchants, hardware wallets, promo codes and, of course, stacks of Bitcoin sats!
The good news is, you get to spin that wheel every single time you make a purchase up until the end of Nov. 30, 2020. 
On top of it, each purchase will increase your chance to be drafted to win $500 worth of bitcoin on the last day of promotion!
The Black Friday prize pool 
Your purchases with crypto will always get you one of these prizes:
$10, $50 & $500 in Bitcoin
Five lucky shoppers will get either $10, $50 or $500 in bitcoin from us. However, the $500 Bitcoin winner will be drafted from all crypto spenders that bought something from our merchants or a gift card store during the promotion. 
That means even a single purchase will get you a fighting chance to win the grand prize. The chance to win $500 in Bitcoin also increases if you make more than one purchase with crypto before Dec. 1.
Trezor & Ledger hardware wallets
Who doesn't want a hardware wallet? Every crypto holder should want to secure their cryptocurrencies in the best way possible. With that said, we're giving out three Trezor and three Ledger hardware wallets to our shoppers!
CactusVPN subscriptions 
CactusVPN is one of those great VPN services that do not keep any logs and help bypass censorship and other internet restrictions around the globe with ease. And now it's your turn to win one!
With CactusVPN, you can:
Hide your IP address & geo-location

Secure your data on any WiFi network

Stop ISP & government surveillance for good

Enjoy safe and worry-free torrenting

Forget bandwidth throttling

Keep your browsing habits a secret
We're giving 1-year high-speed Cactus VPN subscriptions to ten lucky shoppers this year because if you use crypto, privacy matters even more.
Discount coupons for CoinGate gift cards
This Black Friday will be a perfect opportunity to stack up on gifts for upcoming holidays. And what's a better gift than the ability to choose whatever you want? 
That's what gift cards can do, and we're giving out promo codes for discounts up to 90% for all of the 350+ gift cards that are in stock at CoinGate gift card shop. 
Get a great deal on any gift card and use it to prepare for Christmas ahead of time!
Promo codes from our merchants 
We're also giving out discount codes straight from our merchants! 
Some of our partners are joining the promotion, offering up to 30% discount for a variety of services. Besides, promo codes work on top of existing discounts as well! 
These merchants are Cherry Servers, Surfshark, HostSailor, PureVPN & Hidemy.name. 
Mark the date – Nov. 27!
Black Friday is happening right now. Hope you're ready for it! It's starting on Nov. 27 and ending on midnight, Dec. 1. 
And don't forget to follow us on Twitter – that's where all the action and announcements take place.
Here are more articles from CoinGate that might be relevant to you: