Before, our customers were able to use only Euros or US dollars to buy cryptocurrencies with credit or debit card. And now, we're vastly expanding our customer's options and adding a bunch of new fiat currencies to the pot!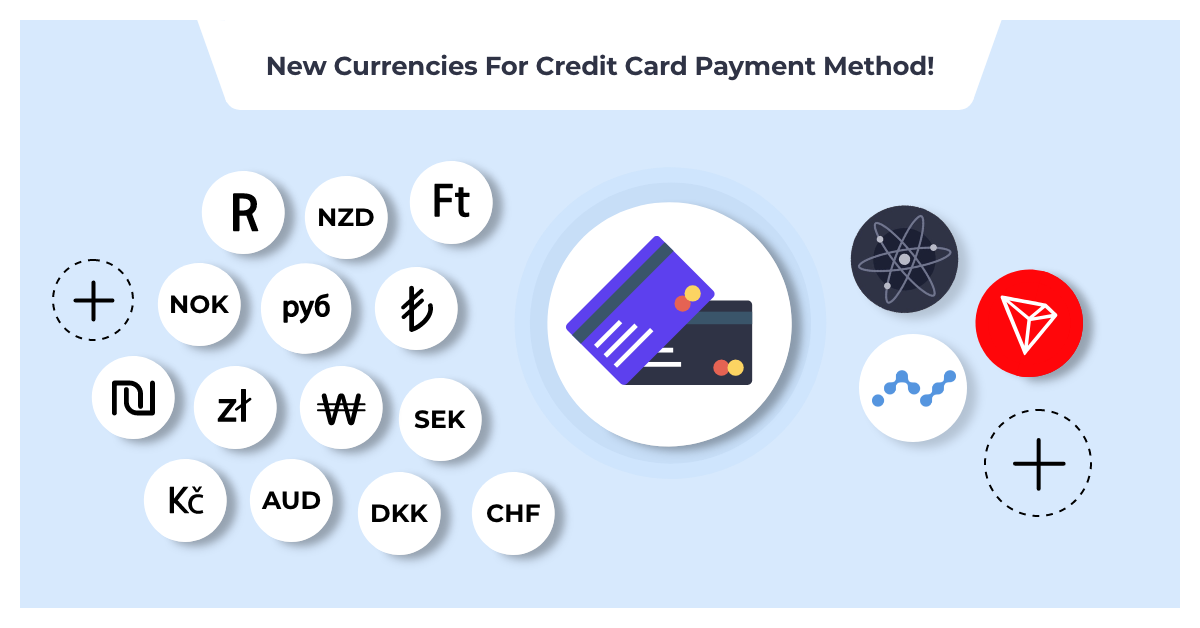 At least at CoinGate, credit card payments have proved to be the most demanded payment method amongst our crypto-hungry traders, generating 70-80% of CoinGate's monthly turnover in terms of trading services. 
Although the majority of credit card users come to us from the USA, we've noticed a huge demand for this particular service from countries like Great Britain, Canada, Arab Emirates and even a few Asian regions.  
With that in mind, together with our partner Simplex, we're adding support for more traditional currencies you can use for your credit card purchases, as well as expanding a list of cryptocurrencies you're now able to buy! 
It will allow users to process payments in their local currency, which will result in a reduction of the overall cost of their transactions. Keep in mind that the list provided below will be expanded on a regular basis, meaning more and more currencies will become available to use and purchase. Last time updated: March 10, 2020 (check here for up-to-date list).

In addition, we've added the ability to save card details as part of the Simplex checkout flow! Now, returning users only need to enter their CVV to complete a transaction. 
Newly added traditional currencies (EUR, USD excluded):
CAD / JPY / GBP / TRY / ILS / KRW / RUB / AUD / CHF / CZK / DKK / NOK / NZD / PLN / SEK / ZAR / HUF

Cryptocurrencies available for purchasing:
BTC / LTC / ETH / XRP / BCH  / BNB / XLM / TRX / ATOM / NANO / BUSD / PAX / DASH / DAI / EOS / USDT
Soon we will add even more options. When that happens, we will certainly let you know – follow us on Twitter so you wouldn't miss it!
If you intend to use the credit card payment option, this step-by-step guide will smoothly lead you through the whole process. Check it out! 
Here are more articles from CoinGate that might be relevant to you: