In this guide, we will show how to purchase cryptocurrencies right here on CoinGate using mobile balance, as well as answer the most common questions regarding this payment method.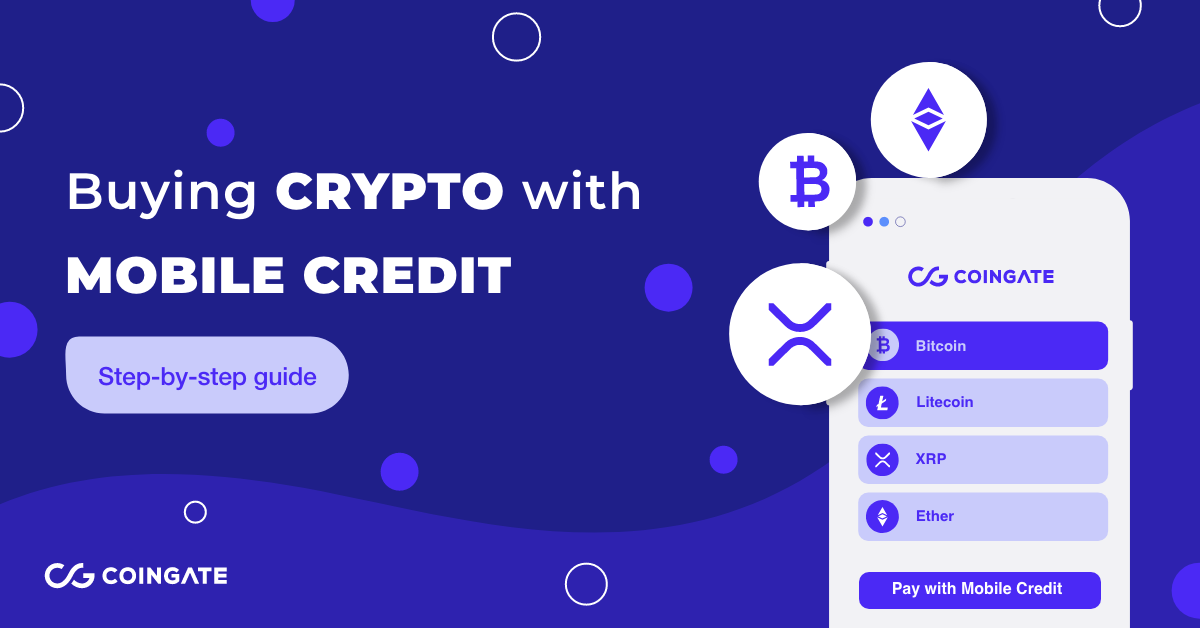 Note that in order to use this mobile payment option, it is necessary to sign up at CoinGate and pass the trader verification by uploading a valid ID document.
If verified, you will be able to buy Bitcoin, Litecoin, Ether, Dash, Bitcoin Cash, Zcash, Nano, TRON, Dai, and BitTorrent Token.
The mobile payment method is made possible in collaboration with payment service provider DaoPay. As such, all the issues and concerns regarding mobile orders should be addressed to our partner's support team. 
How to buy crypto with mobile credit: a step-by-step guide

Buying digital assets with a mobile balance is a quite intuitive and straightforward process. Essentially, what you have to do is simply call or text a premium number from your mobile or landline number. But before you can do that, there are several steps you need to take first. 
Step #1: Locate the mobile payment option
After you obtain the verified account status, go to your account dashboard, select the "Trader" menu section, click on the "Buy" button, and choose the "Mobile Balance" payment option.
Step #2: Fill in the empty fields

First off, select the cryptocurrency you wish to buy and a country you're located in. Also, select the payout address for the chosen digital asset. 

If you don't have a payout address specified for the coin you intend to buy, click the "Add (cryptocurrency) payout address" button. When done, proceed to the next page.
Step #3: Select a payment method and amount
Now, you will be presented with two options: either make a mobile or landline payment. Choose one that suits your needs best, but keep in mind that attempting to make a purchase from a different country may result in you losing money without refund possibility.

Lastly, select the amount of cryptocurrency you want to purchase and proceed further.
Step #4: Follow the instructions on the screen
Upon choosing the amount, the instructions will pop up. Depending on your country, you will be presented with the option to make a payment either by a quick phone call, a longer timed call or by sending a text message (SMS).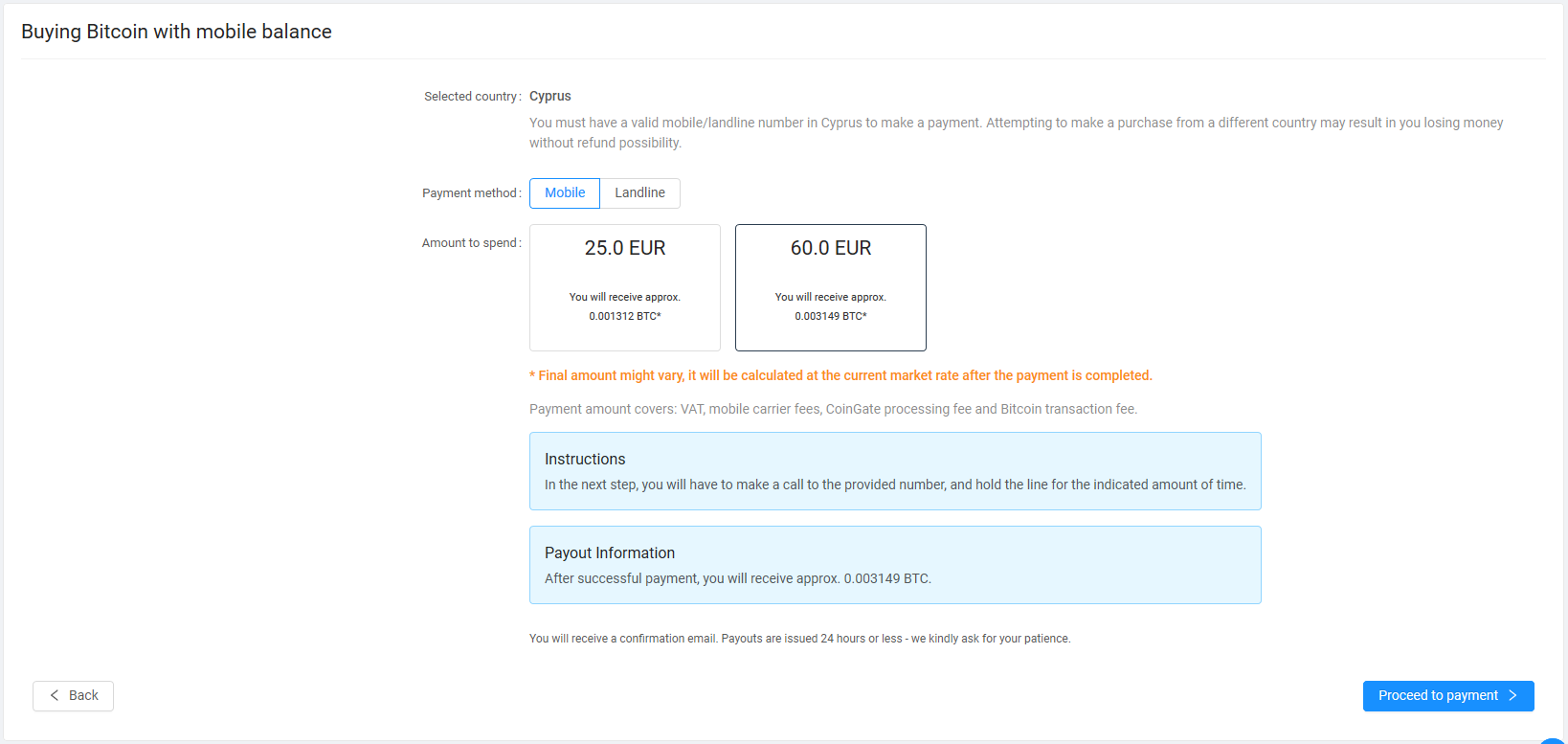 Double-check your payout address, as well as the amount you will receive, and click "Proceed to payment." Note that the final amount might vary as it will be calculated at the current market rate after the payment is completed.
Step #5: Make a payment
Follow the on-screen instructions to make the payment with your mobile phone or landline number. After completing the payment, you will receive a confirmation email.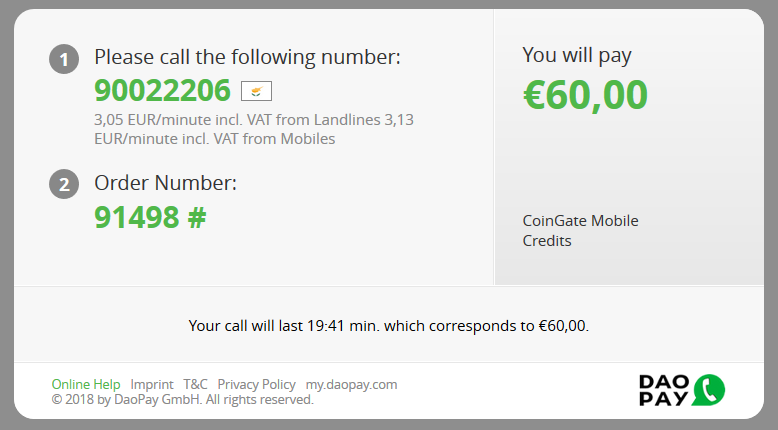 You're done!
At this point, the exchange rate has now been locked. You can expect to receive coins to your personal wallet within 24 hours. You can also track your purchases from your account by selecting the "Trader" menu section and clicking "Mobile Orders."
Fees
By providing the phone payments feature with our partner DaoPay, we are collaborating with a large number of carriers and operators across each of the countries that we support. 
As such, the feature takes advantage of premium-rate numbers that, inevitably, have significant fees. In addition, due to the nature of the service, phone payments also apply a Value Added Tax (where applicable), which is also included in the cost.
In the end, CoinGate only earns a fraction of the paid amount, while the vast share of the fees goes directly to mobile carriers and towards VAT costs. The payment amount also covers CoinGate's processing fee and Bitcoin transaction fee. With that in mind, please take note of the approximate amount of cryptocurrency you will receive, which will be displayed below the payment amount.
Order cancellation
If you wish to cancel a partly paid mobile order and get a refund for it, please be advised that currently, it is not possible. 
However, if you want to cancel the mobile order before it was paid, simply close the payment window, and the order will eventually expire. 
Supported countries
Currently, mobile orders are supported in these countries: Austria, Australia, Belgium, Canada, Switzerland, Cyprus, Czech Republic, Finland, France, United Kingdom, Greece, Hungary, Ireland, Israel, Luxembourg, Norway, Poland, Russian Federation, Sweden, and Slovakia.
If, by any chance, your country is not supported for this particular payment method, you might as well check out other crypto purchasing options that CoinGate has to offer.
Here are more articles from CoinGate that might be relevant to you: