Most companies in the crypto industry have struggled to find decent platforms to advertise on for years.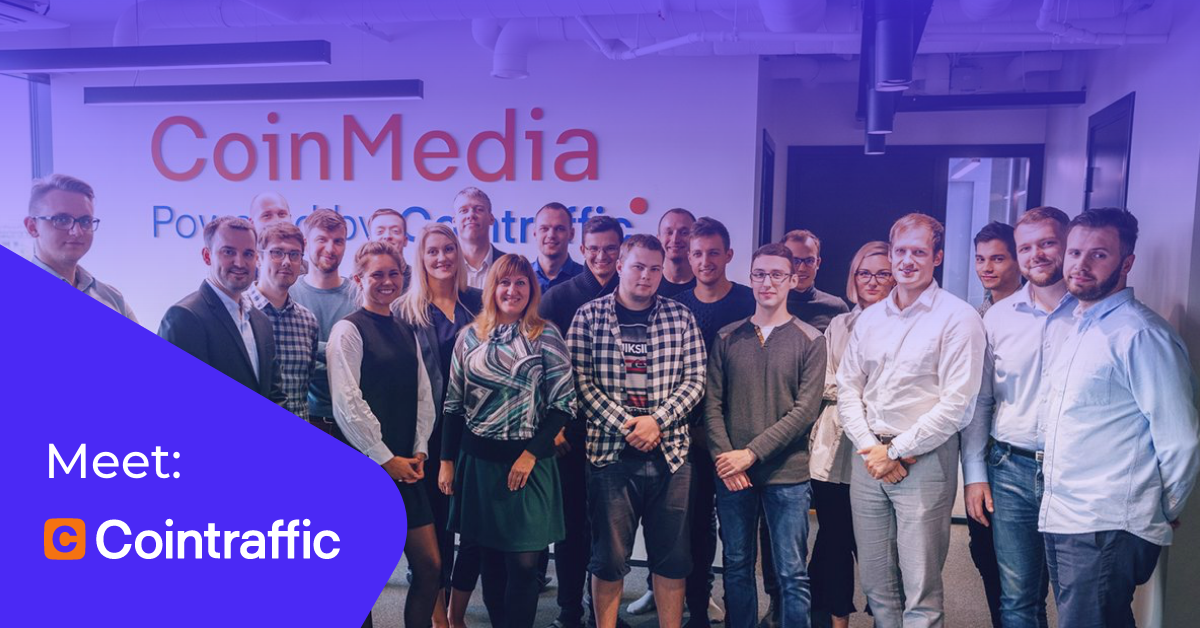 If that wasn't enough, the problem intensified when the most popular and desirable advertising networks like Facebook, Reddit or Twitter collectively banned crypto ads in all forms without considering the damage it can do to an infant industry. 
As a result, crypto-oriented companies were forced to look for alternatives, even though there weren't much to choose from. Luckily, there is a niche company striving to fix this issue for everyone, once and for all. 
Meet Sergei Verbitski, co-founder of Cointraffic, a highly selective crypto advertisement network for all businesses looking to increase their traffic of the crypto-focused audience :

– Your network is exclusively dedicated to crypto-oriented advertisers, and there are not many companies like yours. How did you come up with an idea to blend advertising and such a niche industry like crypto?
– Our story started in 2012: two of our founders worked as heads of marketing for different crypto-related projects. Bitcoin's price was around $100 back then, but we already knew that the industry would grow. While we had perfect relations with most of the major crypto-related publishers, like news portals and others, we decided to create an advertising network.

Cointraffic as an idea came to mind in 2013, and within the next year, we started this business. We didn't know much about ad networks but felt that the number of companies would grow and they would need quality traffic. So we found our third founder, who became a CTO, and started to build an ad tech system while we prepared ourselves for cooperation with advertisers and publishers.
– Your company has established itself very well over the past five years. How big is your team now? Is it still growing?
– Nowadays, we are a team of 30 people, working with the biggest advertisers in the crypto industry and leading their ad campaigns through banners ads, native ads, and press releases distribution via our engine. Our goal is to provide automated services so our clients can easily set up, optimize and analyze their campaigns.
That is why from one side we don't need many people, but from another, we are always working on adding new services. For example, this month we started a new banner ad format called "slide banner" – what appears from the right side of the screen as a small box – that gets perfect attention but at the same time will not interrupt the session of the visitor. We are also looking for options to diversify our business from crypto-only vertical. Hopefully, there will be new niches added soon as well!
– We know that it's tough to secure a reputable name in the crypto industry. How do you maintain quality ads with so many companies coming from what some would call a high-risk industry?
– First of all, we have strict legal agreements that eliminate most "grey-area" companies. We are not accepting specific projects, like HYIP, adult-content, etc. We are not working with companies without legit bank details and company addresses. It is impossible for us to create any ad campaigns within our system if a company doesn't have official details.
While the market is still small, and there are not enough traffic sources for everyone, we decided to focus only on specific companies or even brands. For example, we are working with a few major crypto exchanges — these are big clients who are using most of our services and whom we treat as nicely as possible.
– There are lots of well-known crypto-oriented companies that benefit from your services. Can you name one of your advertisers that used your platform and achieved significant success?

– One of the biggest clients we have is a KuCoin exchange – for over a year, we have worked to get big attention to their brand from global markets. At the same time, we have worked with and are still working with almost all major brands that need better brand awareness.
– Your services are naturally intertwined with a significant portion of the crypto industry. But have you always accepted payments in cryptocurrency?
– We started to accept crypto payments from the first day of business. That is natural in this specific field. At the same time, speaking honestly, using third-party payment providers has been quite tough through the years.
For example, we lost a portion of the company's money when one payment provider went bankrupt. But what makes me feel safe nowadays is using CoinGate, which is well-known and trusted partner in the market.
– Right now, Cointraffic accepts more than just Bitcoin payments. Which digital assets do companies use most often when paying for your services?
– Bitcoin is still the most popular currency, after fiat money payments. But we can see that the share of other currencies in our portfolio is growing as well. We didn't accept anything else other than Bitcoin before we started using CoinGate.
– You collect payments in both fiat and cryptocurrency. Considering that you provide services to crypto-oriented companies, how do they choose to pay for your services? Is it more common for them to pay with fiat or digital assets?
– The biggest part is coming from fiat. I think it is still safer for companies to pay in fiat as they are not losing anything on rates. But most of them are receiving money in crypto from their customers, so the share of payments in crypto is also always growing.
– Do you think paying with crypto is getting more popular over the years? How do you envision the development of blockchain-based solutions in the next five years?

– When we started to work in this industry back in 2012, there were almost no services at all who provided the automated payment gateways and were trustworthy as well. The picture nowadays is totally different: plenty of new services came into the market, and I'm sure crypto payments will become much more popular during the next few years.
I think more institutional investors will join the market as it is safer for them to manage their funds via these new, different services.
– Let's imagine you're speaking with a businessperson who considers accepting cryptocurrency payments. What piece of advice would you offer to him?
– I would advise them to find a good partner who can process their payments in different currencies with an option to transfer money to their bank accounts, as well as with clean financial reporting and fast support that can help to answer questions you might have.
– So what's next for Cointraffic? Anything to look out for, like new features, products, etc.?
– Cointraffic has plans to become even bigger! Just two months ago, we changed our whole infrastructure. Our clients can already see changes in our design, but changes are much bigger from a technical point of view. Nowadays we are going to present more options for target ad campaigns, with flexible payment options and, of course, new services. We are always listening to our customers' feedback and using it to find ways to improve our quality.
___
It's great to see such companies that create unique services, fill a specific niche, and provide a solution to an issue that has bothered the industry for a long time. The success stories of Cointraffic and their clients show that the hunger for crypto-friendly advertising platform is being appeased by something even better – a network that's not only crypto-friendly but also crypto-focused. 
The road ahead certainly looks promising for Cointraffic. In fact, so promising that, after Cointraffic became our client, we also became theirs! 
So, if you're a business representing crypto-related projects, Cointraffic might be the right (if not the best) choice for you. Check them out!
Feel free to subscribe to our blog down below or follow us on Twitter to stumble upon more articles like this. Thank you!
Here are more articles from CoinGate that might be relevant to you: