Besides merchant services, payment gateway CoinGate provides multiple methods to buy cryptocurrencies like Bitcoin, Litecoin and others with a single fiat payment.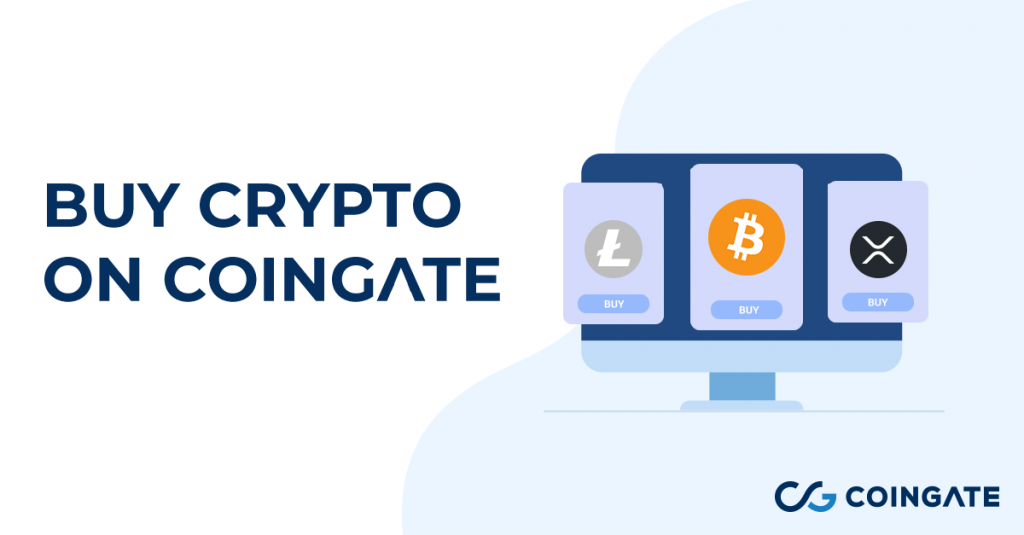 When using CoinGate, the process of buying cryptocurrencies is pretty straight-forward. Once you create an account and verify your identity, you are free to use all purchasing options you see on your account dashboard under the "Trader->Buy" menu section.
Note that some of our instant payment options do not require an account at all. Instead, we apply a quick KYC procedure. It is a standard, yet a necessary method to ensure that all parties are fully compliant.  
List of purchasing options
Currently, CoinGate provides these cryptocurrency purchasing methods: SEPA bank transfer, credit or debit cards and mobile balance. All the prices are sourced from the largest exchanges, meaning that you always get the real-time market rate.
Below you'll find short reviews of every payment option we have, including step-by-step instructions on how to make an actual purchase.
SEPA bank transfer
This payment option is available for users that are already verified on CoinGate and make a bank transfer in EUR within the Eurozone.
After you make a bank transfer to CoinGate, you can buy digital assets immediately, or wait up to two weeks to commit to your purchase. Available cryptocurrencies to buy are: Bitcoin, Litecoin, Ether, DASH, Bitcoin Cash, ZCash, Nano, TRON, Dai, BitTorrent Token (BTT).

When you begin, you will be met the "Cryptocurrency Buying Agreement" as a reminder that CoinGate recalculates the worth of cryptocurrencies that you intend to purchase every 60 seconds.

After you confirm the warning agreement, CoinGate will redirect you to a purchasing screen.
First, enter the Euro amount that you want to spend. Then, choose the cryptocurrency you want to receive. Next up, proceed to the next page and finalize the payment.
The buying price is locked the moment you make a purchase. You will receive your crypto within 24 hours after receipt of payment.
Credit / Debit cards
Buying cryptocurrencies with credit or debit cards on CoinGate is available in 70 countries (including the U.S.) and do not require registering an account. All payments for cryptocurrency purchases are fulfilled by Simplex and can be done from this page. Visa, MasterCard and even prepaid debit cards are welcome, 19 traditional currencies are supported.

You are allowed to purchase 20,000 Euros or U.S. Dollars per day and up to 50,000 Euros or U.S. Dollars monthly. Minimum purchase is either €50 or $50. Simply choose a currency to purchase, set the payment currency to Euros or U.S. Dollars, provide receiving address and proceed to checkout. Before you complete the purchase, you will have to enter your billing address too. Payouts will come directly to your wallet within 24 hours.
In fact, we have an extensive step-by-step guide on how to purchase crypto with credit/debit cards. You can

read it here

.
Apple Pay
With more than 500 million Apple Pay users worldwide and 45% of the US citizens owning an iPhone, the ability to buy 36 cryptocurrencies and tokens to any wallet with an already familiar app will surely prove useful and exciting to many.
Here's an easy guide on how to buy Bitcoin on CoinGate with Apple Pay
Enter a currency and the  amount you want to spend.

Select a cryptocurrency to purchase.

Enter your crypto wallet address.

Click the "Go to Checkout" button.

Select the Apple Pay payment option and click "Continue".

Receive Bitcoin or any other cryptocurrency straight to your wallet
And that's it! This process takes only a few minutes while our partners at Simplex will handle your purchase and process the payment in 24 hours or faster. Keep in mind that the Apple Pay payment option will appear only when using an iOS device.
Mobile balance
Purchases with mobile balance are available worldwide. To use this payment method, you will have to register and verify your account.
Once done, you will be able to purchase small amounts of various cryptocurrencies using your phone bill. Depending on various circumstances, you can make the payment either by a quick phone call, a longer timed call or by sending a text message (SMS). Payout will be transferred to your personal wallet within 24 hours.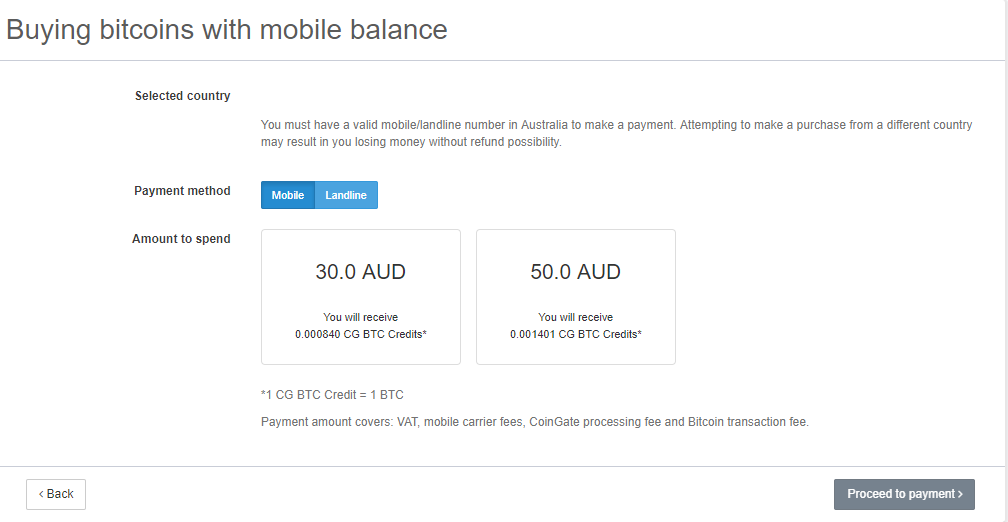 You can find an extensive step-by-step guide on how to make a mobile purchase on our website.
Trade cryptocurrencies and become an affiliate
Whether you want to sell, buy or just trade cryptocurrencies for profit, CoinGate is the right place to settle down. In addition, we also offer the keenest traders to join our affiliate program and earn in the process.
If you are a registered user, you can create referral links that allow receiving 1% of the fees paid by traders who registered using it. As a result, referred customers will pay lower fees than usual. Herewith, the referrers will get a percentage of total payments that the referred customer makes.
You can check all the fees on our website. With that said, hopefully, you will be satisfied with the variety of options and opportunities we provide!
Just so you know, we release content like this a few times per week. If you like to read our content, feel free to subscribe to our blog! Simply enter your email address down below and you will get a notification each time we release something new!
Here are more articles from CoinGate that might be relevant to you: