Besides merchant services, payment gateway CoinGate provides multiple methods to buy cryptocurrencies like Bitcoin, Litecoin, Ethereum and others with a single fiat payment.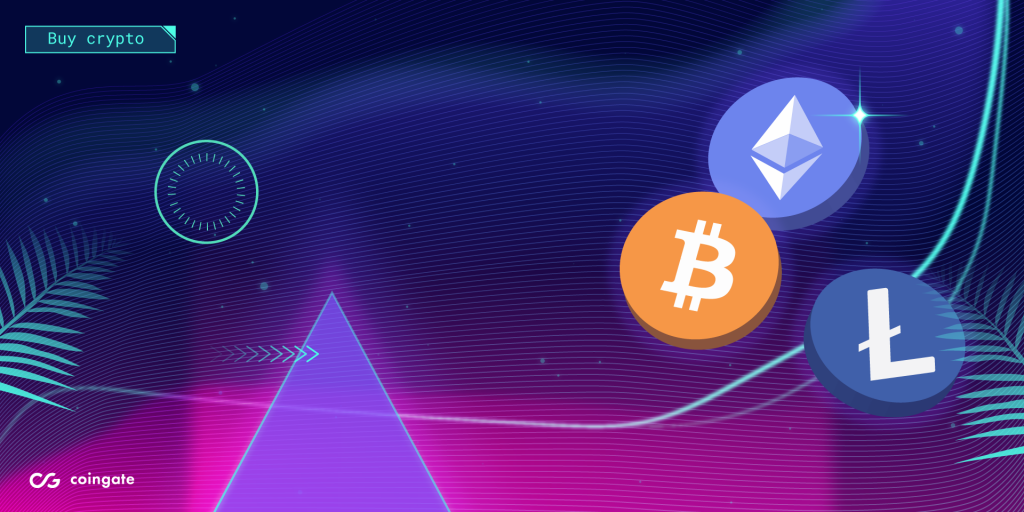 We support over 140 countries and offer you 50+ top-ranking cryptocurrencies to choose from with a commission rate as low as 0%. When using CoinGate, the process of buying cryptocurrencies is pretty straightforward. Once you create an account and verify your identity, you are free to use all purchasing options you see on your account dashboard under the "Trading→Buy&Sell" menu section.
Note that some of our instant payment options do not require an account at all. Instead, we apply a quick KYC procedure. It is a standard, yet necessary method to ensure that all parties are fully compliant.
List of purchasing options
Currently, CoinGate provides these cryptocurrency purchasing methods: SEPA bank transfer, credit or debit cards and mobile balance. All the prices are sourced from the largest exchanges, meaning that you always get the real-time market rate.
Below you'll find short reviews of every payment option we have, including step-by-step instructions on how to make an actual purchase.
SEPA Bank Transfer
This payment option is available for users that are already verified on CoinGate and make a bank transfer in EUR within the Eurozone.
As of January 2021, SEPA has 36 member-states: Austria, Belgium, Bulgaria, Cyprus, Croatia, Czech Republic, Denmark, Estonia, Finland, France, Germany, Greece, Hungary, Republic of Ireland, Italy, Latvia, Lithuania, Luxembourg, Malta, Netherlands, Poland, Portugal, Romania, Slovenia, Slovakia, Spain and Sweden, the 3 EEA countries of Norway, Liechtenstein, Iceland, and also Switzerland, Monaco and Britain stays SEPA country despite Brexit.
After you make a bank transfer to CoinGate, you can buy digital assets immediately, or wait up to two weeks to commit to your purchase. Available cryptocurrencies to buy are: Bitcoin, Litecoin, Ether, DASH, Bitcoin Cash, ZCash, Nano, TRON, Dai, BitTorrent Token (BTT), Dogecoin, Cardano, Loopring, Algorand and many others, which you can find listed here.
When you begin, you will be met with the "Cryptocurrency Buying Agreement" as a reminder that CoinGate recalculates the worth of cryptocurrencies that you intend to purchase every 60 seconds.
After you confirm the warning agreement, CoinGate will redirect you to a purchasing screen.
First, enter the Euro amount that you want to spend. Then, choose the cryptocurrency you want to receive. Next up, proceed to the next page and finalize the payment.
The buying price is locked the moment you make a purchase. You will receive your crypto within 24 hours on business days after receipt of payment.
Easy Bank Transfer
Easy bank transfer solution opens the door to open banking for CoinGate customers. This means that traders with European IBAN can buy cryptocurrencies through a direct bank link. No need to copy payment details manually might be a real-time-saver in urgent cases.

If you want to buy cryptos through a direct bank link, you have to enter the Euro amount that you want to spend. Then, choose the cryptocurrency you want to receive.
In the final steps you should choose an easy bank transfer option. From this step you can choose a bank you use and get a direct bank link. Then sign in to your bank account and voila – your transfer is done.
Credit / Debit Card Trasfer
Buying 50+ cryptocurrencies with credit or debit cards on CoinGate is available in over 140 countries (including the U.S.). You can find the supported countries list by clicking here and here. Visa, MasterCard and even some virtual, prepaid debit cards are welcome.

Minimum purchase is either €50 or $50. For that you need to have a CoinGate account, simply choose a currency to purchase, set the payment currency to Euros or other national currency, provide a receiving address and proceed to checkout. Before you complete the purchase, you will have to enter your billing address too. Payouts will come directly to your wallet within 1-2 business days.
Start buyung Crypto with a credit/debit card here.
Mobile Balance
To use this payment method, you will have to register and verify your account.
Once done, you will be able to purchase small amounts of various cryptocurrencies using your phone bill. Depending on various circumstances, you can make the payment either by a quick phone call, a longer timed call or by sending a text message (SMS). Payout will be transferred to your personal wallet within 24 hours.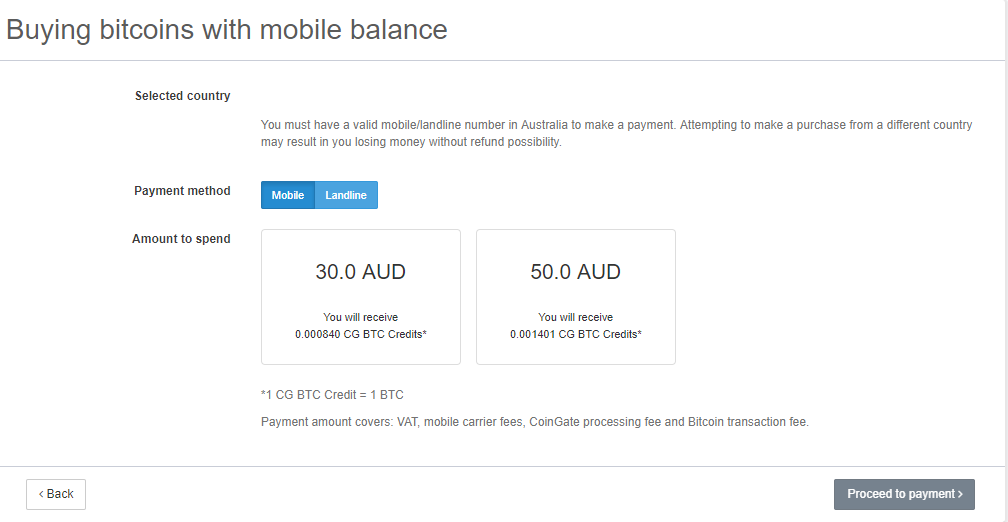 You can find an extensive step-by-step guide on how to make a mobile purchase on our website.
You can check all the fees on our website. With that said, hopefully, you will be satisfied with the variety of options and opportunities we provide! Press here to start trading!
Have some problems trading with CoinGate?
Check our support portal for the inforamtion or contact our customer support with your preferred channel – chat, email or even social media.
Want to do more with your cryptos?
Check our merchant directory and gift card store to find where you can spend your well-earned cryptocurrencies. 
Just so you know, we release content like this every once in a while. If you like to read our content, feel free to subscribe to our blog! Simply enter your email address down below and you will get a notification each time we release something new! Or follow us on Twitter, Facebook or LinkedIn!
Here are more articles from CoinGate that might be relevant to you: