It is fair to say that the impressive rise of the video games industry took most people by surprise, especially during the last decade. In fact, the exact same goes for the blockchain industry, and Bitcoin, in particular.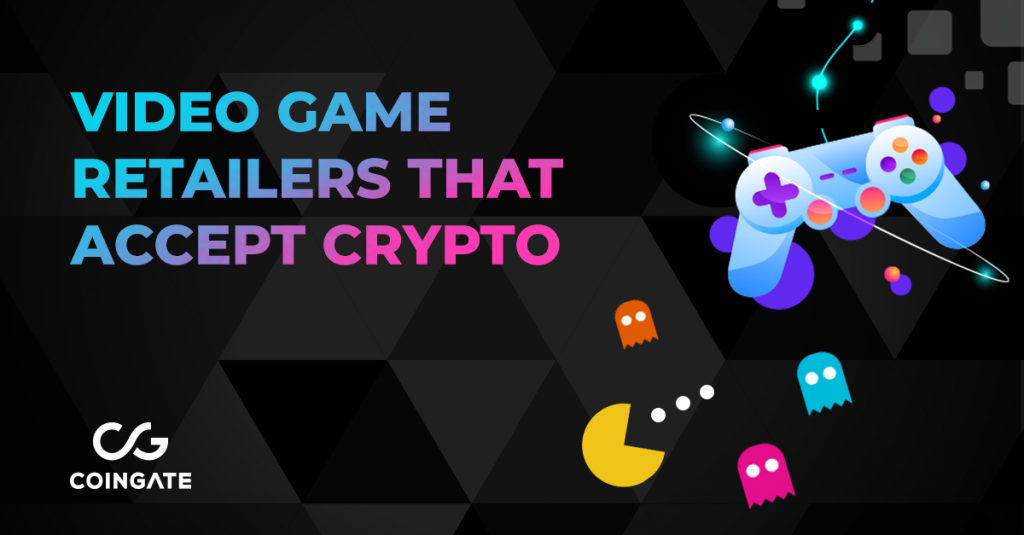 Not only had both industries became multi-billion dollar markets, but also the driving forces for many technological innovations. The pioneers of these industries paved a way for many exciting developments that are yet to come into our daily lives.
But the most fascinating thing is how both of these industries are able to complement each other, particularly regarding instant purchases and seamless micro-transactions.
Retailers expand their customer base with cryptocurrency payments
The gaming community is likely one of the most demanding group of people out there. The hunger for innovations and advancements prompted major gaming industry players to constantly evolve at a rapid pace. As those in the gaming business always have to catch up with never-sleeping competitors, its community is much keener to accepting sudden change as long as it causes a positive impact.
This is where the blockchain technology steps in. Since cryptocurrencies such as Bitcoin and Ethereum started to gain traction, some video game retailers took it as an opportunity to cater to its tech-savvy community. For them, it did not take long to realize how huge the cryptocurrency markets are getting and what potential they carry.
Considering such a huge spending power that cryptocurrency enthusiasts possess, it is no surprise that the game sellers are looking for ways to curb it. After all, the additional payment options for retailers only expand their customer base.
Places to buy PC, PS4 and Xbox One games with crypto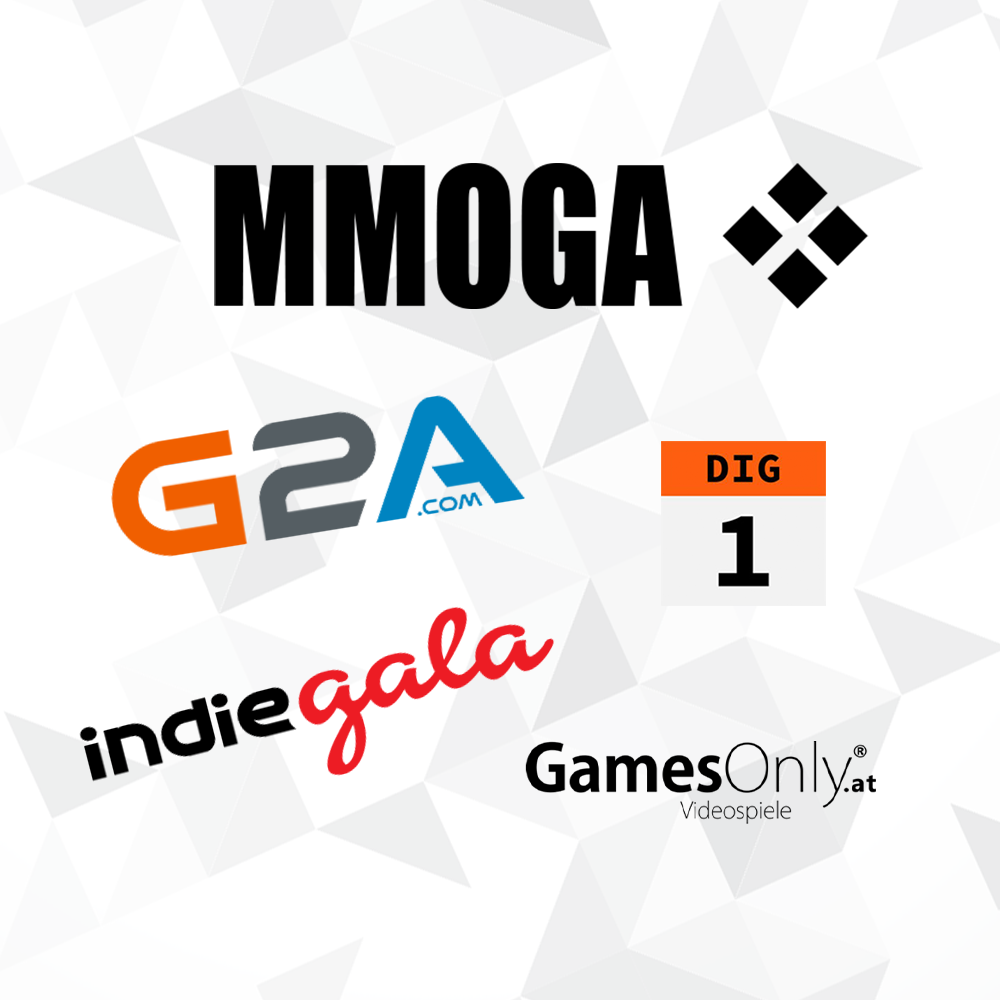 For crypto-HODL'ing PC and console gamers out there, we provide a list of video game retailers that are already accepting Bitcoin payments. However, some of these retailers accept way more digital coins than just Bitcoin.
Companies that make use of our payment gateway accept over 50 cryptocurrencies. It includes such major coins like Ether, Litecoin, Bitcoin Cash, NANO, Tron, and numerous other Altcoins that you can spend at thousands of online vendors worldwide.
So, let's jump right into it:
GAMIVO
GAMIVO is quite a global marketplace. As it says on their website, it is a platform run by gamers for gamers. In fact, it seems like you can find anything there. An endless list of PC games, PSN cards, Microsoft products, Amazon gift cards and so on. It is no surprise as all merchandise is offered by hundreds of merchants, while shoppers are protected by an excellent Customer Protection Program (CPP).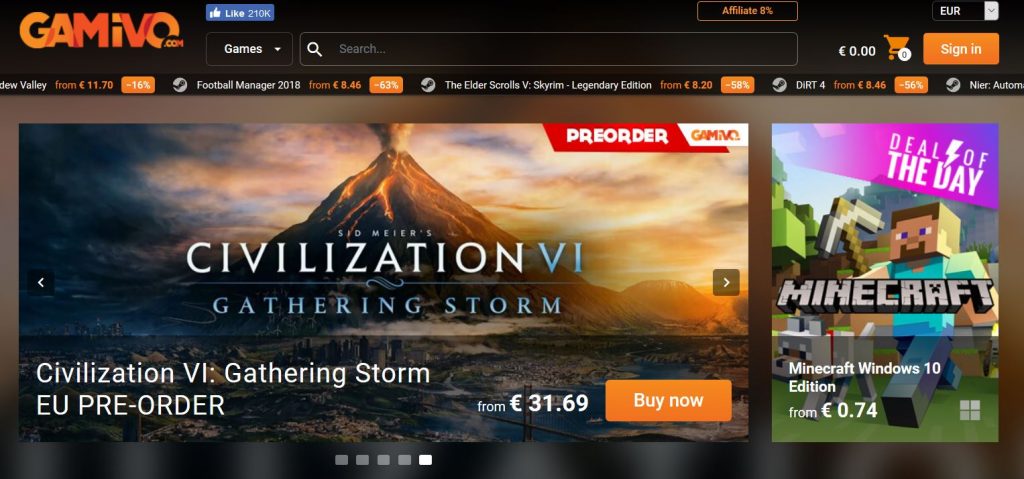 While you can always check the merchant score before you purchase a game, leaving a review will earn you a dollar, and joining their affiliate program can earn you even more. So, if you decide to, you can actually leverage the platform, even if you are not selling your own merchandise there.
For those who just came to buy a game, it will be a treat. Navigation on the website is as smooth as it can be. Their filter system lets you pinpoint a thing you need in a matter of seconds. In addition, games you are looking for will also show their metascore.
Before purchase, you can review each merchant, see their performance, compare prices and select whichever you prefer. Also, you can get amazing deals if you catch one of those real life offers shown on top of their website. Quite cool!
Accepted cryptocurrencies: Bitcoin.
MMOGA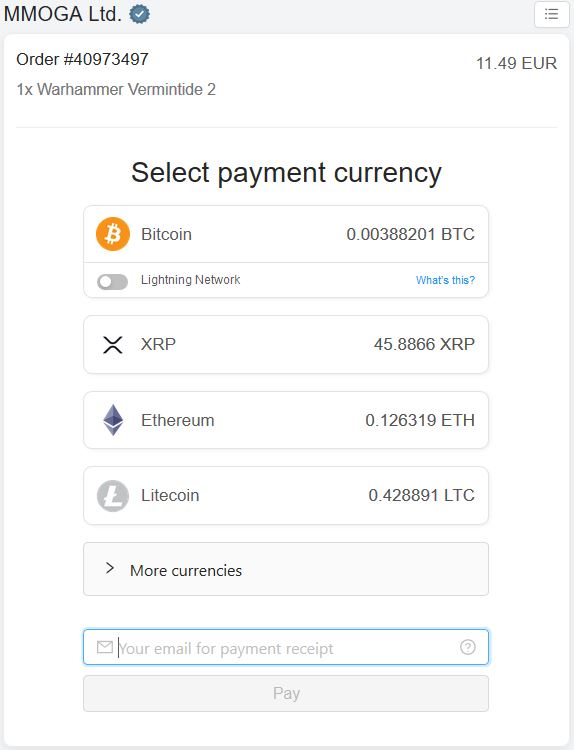 MMOGA is a professional mediator of game services that has served over 7,000,000 customers over the past 12 years. Their product range varies greatly –  you can get keys for the latest top PC and Xbox One games or classics, game cards, various virtual goods, the popular FIFA Coins for the Ultimate Team mode of the football game, or virtual currencies like WoW Gold, Aion Kinah, Final Fantasy 14 Gil, CS: GO, Pokemon Go, Game Shows and many more. Thanks to numerous trusted sellers operating on their platform, it has it all.
On MMOGA, you can always find eye-catching deals and offers, providing significant discounts to numerous video games and best-selling digital products. And if you are really into games, they have their own loyalty programs, which give permanent discounts to the majority of their commodities.
They also do not disappoint with their delivery times as most of their digital products get into your hands in merely 5-10 minutes. Especially if you use cryptocurrency as a payment method, which allows settling the deal almost instantly.
Accepted cryptocurrencies: Bitcoin, XRP, Litecoin, Ether, Bitcoin Cash, Dash, and +40 Altcoins.
GamesOnly.at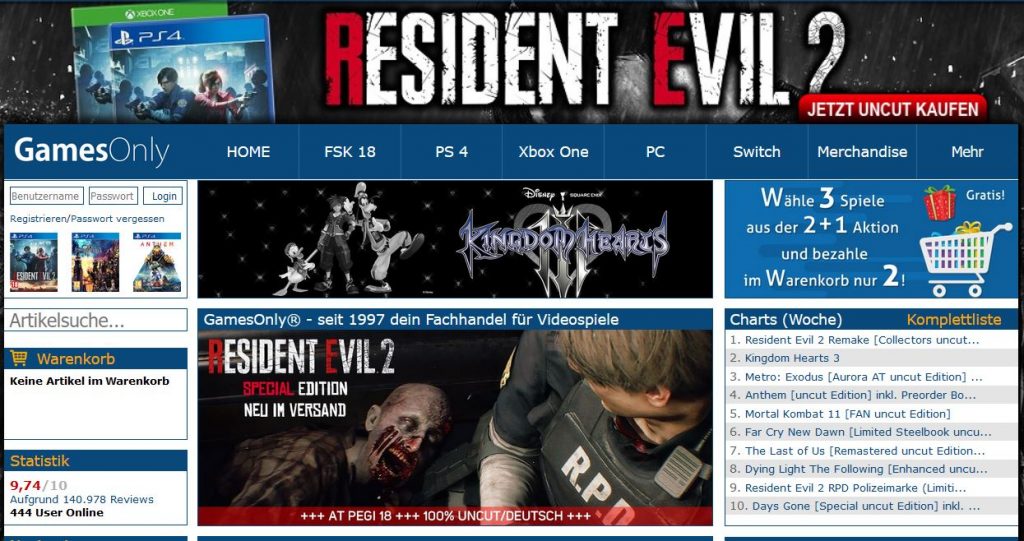 If you are more of a hard-copy type of person, GamesOnly.at is a go-to place. It is yet another crypto-friendly retailer that mainly focuses on serving German-based customers, but definitely not limited to them. They offer video games for PC, PS4, Xbox One and Switch, and even older consoles. Additionally, they sell video game related merchandise.
GamesOnly.at has overwhelmingly positive feedback of their customers, praising the unmatched customer support, and excellent performance in delivering the goods on time. The well-trusted platform also avails of multiple cryptocurrency payment options, making it a decent destination for crypto-enthusiast to go on a shopping spree.
Accepted cryptocurrencies: Bitcoin, XRP, Litecoin, Ether, Bitcoin Cash, Dash, and +40 Altcoins.
Skinbay
It's important to note from the start that Skinbay do not sell video games in particular. Instead, it is a marketplace dedicated to Steam items for CS:GO, DOTA 2, Team Fortress, Rust and Z1 Battle Royal games.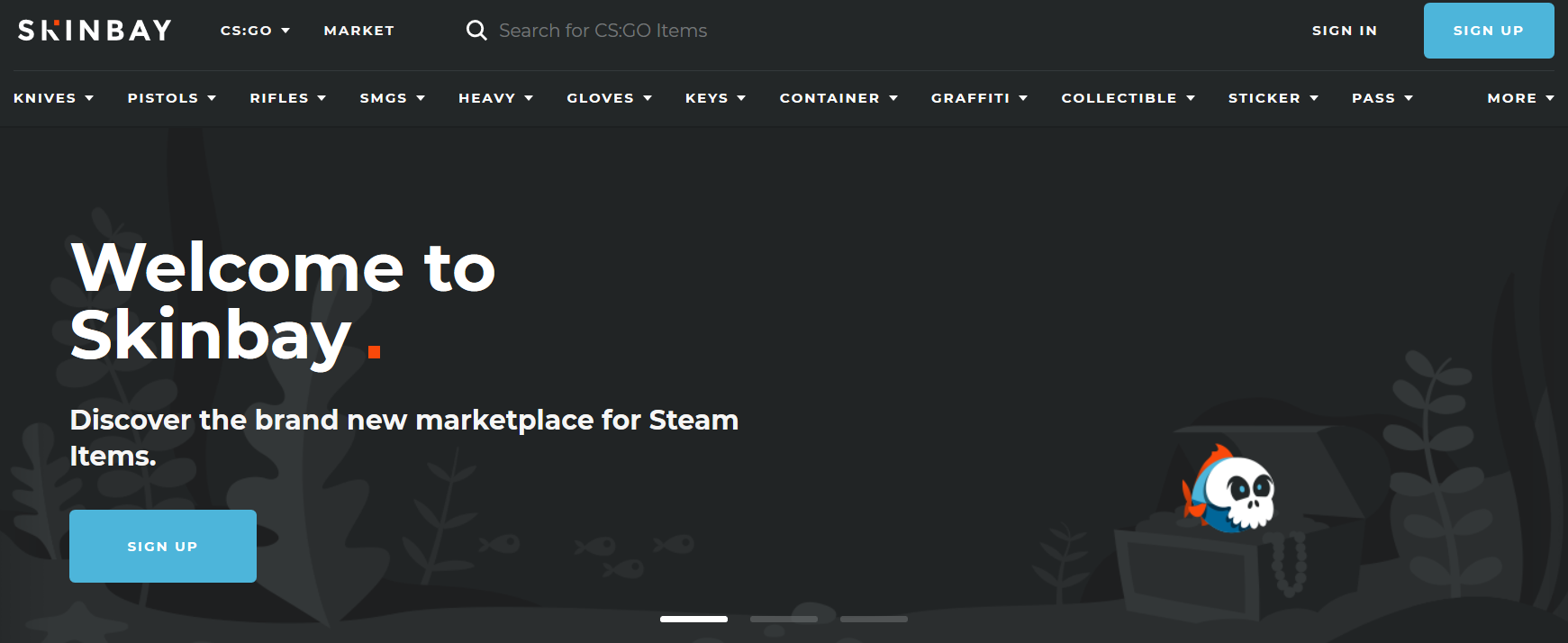 Boasting of a stunning item variety, this site will not disappoint those looking to obtain or sell rarest skins, weapons, clothing or any other item available in mentioned games.
Even if you don't find what you're looking for, the company has its Discord channel where people can find buyers and sellers on the spot. Nonetheless, there should be no problem finding items of any rarity as the site provides a sophisticated item filtering system that can narrow the list of searched items to the tiniest specifics. 
The company also does a lot of giveaways for their followers, so if you're into these games, Skinbay might be an awesome community for you to join. 
Accepted cryptocurrencies: Bitcoin, XRP, Litecoin, Ether, Bitcoin Cash, Dash, and +40 Altcoins.
IndieGala

IndieGala works with more than 300 publishers and individual developers such as BANDAI NAMCO Entertainment, Techland, Deep Silver and more. The company sells Steam game keys and bundles for PC, constantly offering amazing deals. A good thing is, the discounts can get even bigger if you choose to pay with cryptocurrency.
They are known for selling only legitimate keys received directly from developers, publishers or authorized distributors. However, they also provide a way to sell your games in the auction or trade them with other users.
While offering a wide range of services, IndieGala also stands out as being publisher and co-developer of their own games like Red Rope: Don't Fall Behind, Tyler and Downward. Currently, they are working on yet another game TITANS: Dawn of Tribes which is now in early access.
Accepted cryptocurrencies: Bitcoin, Litecoin, Ethereum, Bitcoin Cash.
DailyIndieGame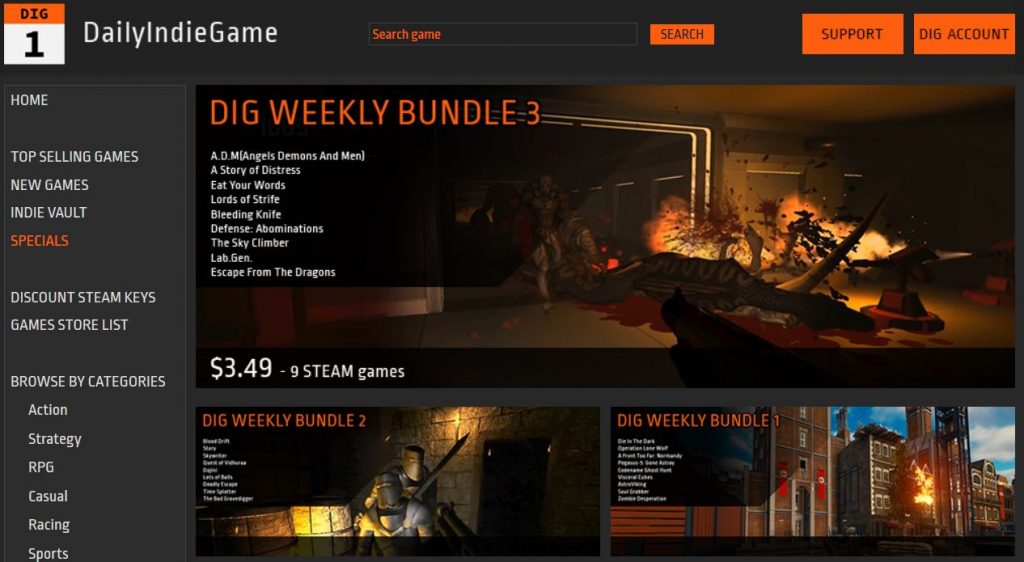 This particular video game retailer mainly sells Steam keys for PC games. But more importantly, you can find plenty of games there that cost just a few pennies with 98% discount label!
Also, as the name suggests, DailyIndieGame also focuses on selling and publishing various Indie games. So, in a way, DailyIndieGame is not only a retailer but also an established publisher of video games.
To actually buy a game there, you will have to open an account and purchase DIG points. DIG is their the local digital token which is used for buying games on their platform. It might seem bogus, but it is actually quite neat as purchases with it are super quick and include no fees.
Accepted cryptocurrencies: Bitcoin.
G2A
One of the biggest retailers on this list, G2A does not limit themselves to just video games. There you can purchase keyboards, mice, headphones and a bunch of other things. But when it comes to the gaming merchandise, G2A fails to disappoint.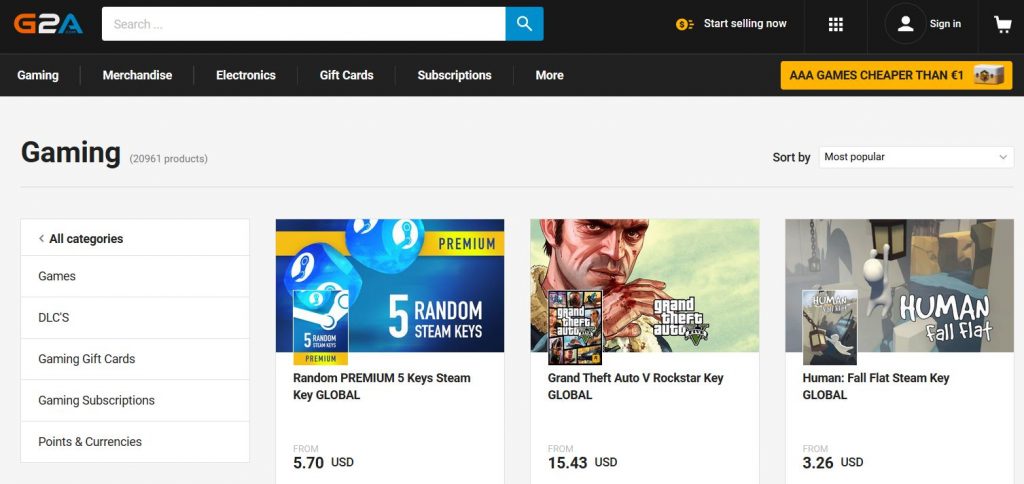 Not only they sell the most recently released video games on PC, Xbox One and PS4, but also a variety of other gaming-related goods and services. It includes subscriptions, gift cards, board games, online gaming courses and even software for creating video games. As they also sell electronics, among many other things, you can even buy a game console!
A variety of their goods is vast, however, G2A makes it difficult to get lost on their site. They provide tools to conveniently filter out the unnecessary items you do not want to see on the product list.
Accepted cryptocurrencies: Bitcoin.
Conclusion
The gaming industry was always upfront with the technology. By choosing to accept cryptocurrencies, game retailers make one more step towards the future by introducing gamers to a wider variety of modern payment options.
Our hope is that in time, the blockchain technology will welcome even more companies to avail of its benefits. Until then, keep up with the news as there is always more coming. If you think you might miss something important, we suggest subscribing to our blog by entering your email address down below.
Have a business? Then you might want to read our article about why you should consider accepting cryptocurrency payments. There are plenty of benefits to it!
Here are more articles from CoinGate that might be relevant to you: