Our team has always been fascinated by innovative technological solutions for the crypto-market. Just last month at the Litecoin Summit we met with CoolBitX, a company that has just launched its new flagship product CoolWallet S – a sleek and ultra-secure mobile hardware crypto wallet.
Our teams share the belief that no compromises should be made when it comes to the security of funds, and it is, therefore, a pleasure to announce our mutual partnership!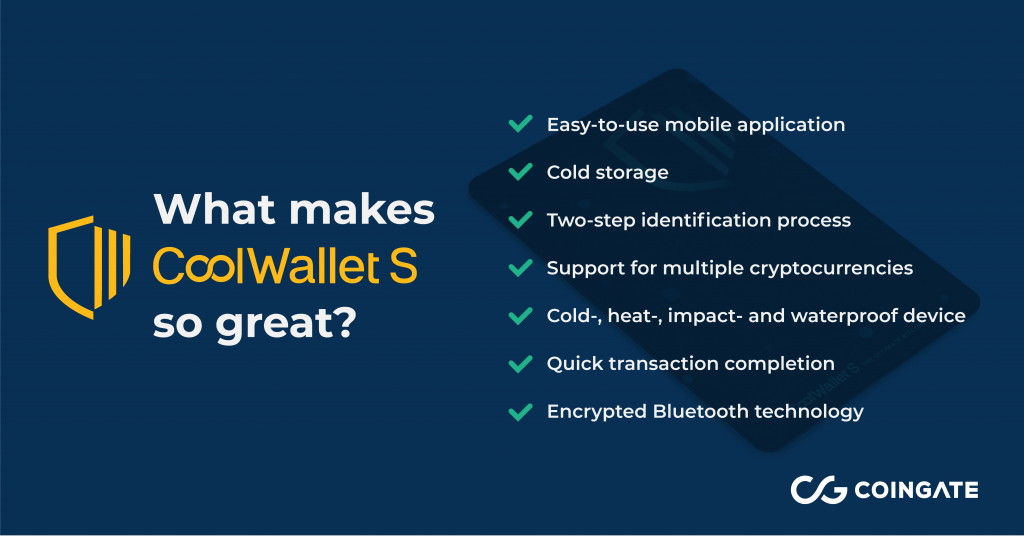 What is CoolWallet S?
CoolWallet S, the flagship product of CoolBitX, represents a new generation of hardware wallets. Forget the never-ending dilemma of convenience vs. security and combine it with a beautiful design – we believe CoolWallet S is set to break the standards in the industry.
Security
The physical device has a built-in EAL5+ certified Secure Element microchip and, unlike most hardware wallets that require a USB cord or plug, pairs with other devices via an encrypted Bluetooth connection. Therefore, not only is the hardware wallet cordless, it is perfectly compatible with Android or Apple smartphones and tablets. This also enables the second layer of protection to users' funds – known as "2+1 factor authentication". On top of that, the device is resistant to water, impact, heat, and cold.
Convenience and usability
Supporting Bitcoin, Litecoin, Ethereum, Bitcoin Cash, XRP and any ERC20 token, CoolWallet S provides the level of security of a hardware wallet combined with the ease of use that most mobile wallets offer. With the native app for your Android or iOS device, sending and receiving funds is a breeze, without compromising security.
Although hardware wallets have been in the industry for years, CoolWallet stands out in its convenience and design. We were surprised that it is, literally, wallet-friendly. The device is the size of a credit card so you can carry it with you at all times! A really neat touch is the small e-ink screen that allows you to check coin balances anytime.
Where can you get it?
CoolWallet S can be bought on the company's official site: https://coolwallet.io. Pay with Bitcoin (incl. Lightning Network), Litecoin, Ethereum or another cryptocurrency via CoinGate!
At $99 a piece with shipping costs included, we say it's a bargain.
CoinGate values your feedback on our services so we cannot wait to hear your reviews on CoolWallet S. We are sure you will love it as much as we do!
Thank you for reading,
CoolBitX and CoinGate team!
Here are more articles from CoinGate that might be relevant to you: