Using CoinGate shopping cart plugins and extensions makes it really easy to set up Bitcoin and other crypto payments in your online shop. This blog post covers WooCommerce plugin installation step-by-step, screenshots included.
We are glad that you are interested in our WooCommerce Bitcoin plugin. Installing it into your online store is quite easy and allows accepting over 50 different cryptocurrencies with a single invoice and instant payment confirmations.  
No setup charges, hidden or subscription fees! 
But before you start, make sure to create an account on CoinGate first.
Crypto payment plugin for WooCommerce: the benefits
Besides providing your customers with an additional payment option that doesn't require to disclose personal information on the payment window, there are many more benefits that might not be obvious right away.
For example, merchants have all the tools to get real-time settlements of the collected revenue in Euros or US Dollars – these payouts are made directly to the bank account. But that's optional, meaning that companies can also settle the revenue to multiple different tokens and stablecoins. 
Let's quickly skim through all the other features that are available to you:
WooCommerce crypto module features:
The CoinGate payment gateway is fully automatic – set it up and forget it;

Receive automatic payment confirmations (instant) and order status updates;

Your customers can pay with Bitcoin, Litecoin, Ether, XRP and

50+ other cryptocurrencies

;

Set your prices in any local fiat currency – the payment amount is calculated in cryptocurrencies using real-time exchange rates;

Extend the invoice expiration time

up to 24 hours;

Refunds for unsuccessful payments are issued directly from the invoice;

The ability to accept slight underpayments;

Select the settlement currencies and payout options for each crypto-asset;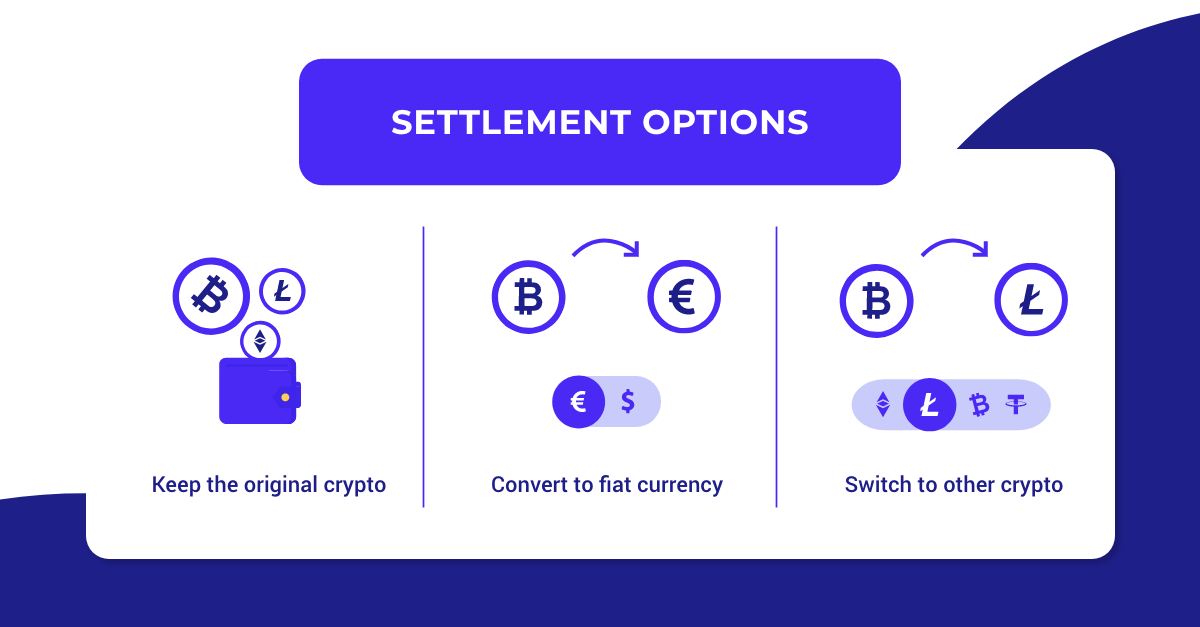 Customize the invoice – disable/enable cryptocurrencies, change their position on the invoice, and more;

The sandbox environment

is available for testing with Testnet Bitcoin (sign up to try it out!)

No chargebacks, ever.
Did we mention that the plugin is free? The only charge we have is 1% flat from the payments you're going to process, and that's it. 
Here's how it works:
Let's say an item in your online shop costs 100 euros. A customer then selects the item and chooses to pay with Bitcoin or other crypto-assets via CoinGate payment option;

An order is generated on your Blesta web store, and the customer is redirected to CoinGate payment window;

The price on the invoice is calculated in real-time according to the current market rate, for example, 0.01 bitcoins.

Using his Bitcoin wallet, the customer makes the payment, receives the confirmation immediately, and is returned to your store.
Once the invoice is paid, the merchant gets a notification and is credited 98.7 euros (100 euros minus a 1.0% flat fee), or 0.001 BTC. The payment is guaranteed and cannot be charged back!
And you, as a business, will receive payouts each week in the selected fiat currencies or cryptocurrencies.
Verify your CoinGate business account or pass the trial KYC to start accepting cryptocurrency payments in no time! 
WooCommerce Bitcoin plugin installation
First and foremost, you will need to sign up for an account on CoinGate. For production, use our main website: https://coingate.com. But before you go live, you may want to do some testing, to make sure everything works nicely. For this purpose, we have a sandbox environment: https://sandbox.coingate.com – just remember to create an account here even if you already have one on our main website.
The installation of our WooCommerce Bitcoin module is quite easy. In order to ensure that CoinGate Bitcoin gateway is working properly on your website, we will go over these two quick steps:
Setup API credentials on CoinGate.

Install the CoinGate Bitcoin module for WooCommerce.
For the testing mode to work, you must generate separate API credentials on https://sandbox.coingate.com, since API credentials generated on https://coingate.com will not work in the sandbox environment. To create a set of API credentials, log in to your CoinGate account, and either complete the auto-setup wizard, or find the API tab on the menu – click "Apps", and then click "+New App".
Please note, this guide was created using WordPress 4.7.4, but is also useful for installing older or upcoming versions.
1. Login to your WordPress admin panel and go to Plugins > Add New.
2. In the Search Plugins field, type in "coingate". When the CoinGate for WooCommerce plugin is displayed, click "Install Now" (if asked, enter your FTP credentials).
3. After the plugin is installed, click "Activate".
4. Go to WooCommerce > Settings > Checkout > CoinGate and then click the check box next to "Enable Bitcoin payment via CoinGate". If needed, change the Description and the Title according to your preferences.
5. Enter your API credentials on the WooCommerce configuration page.
6. Set the Receive Currency parameter to the currency in which you wish to receive your payouts from CoinGate. 
At this point, you can also configure how CoinGate order statuses will correspond to WooCommerce order statuses. Leave the default options if you are not sure.
7. If you are using Sandbox API credentials, then turn Test Mode on.
8. Finally, click "Save changes", and you are good to go!
Here are more articles from CoinGate that might be relevant to you: